Can you guess which one?

I'll give ya a hint - it's the one about a black militant puppet with a penchant for killing trashy broads and then fucking their corpses.

Give up?

It's Black Devil Doll, ya jive ass turkey!




An afro-American rapist/killer is sentenced to death, executed, and then returns to life in the form of a demonic puppet, all thanks to a bored slut with floppy tits and a Ouija board. Thus begins Black Devil Doll - an utterly amusing softcore porn filled look at what Child's Play would have been like had Brad Dourif been a one liner spouting black dude obsessed with white ass - lickin' it, killin' it, and lickin' it some more. If you like movies like The Gingerdead Man and just want to have some completely mindless and immature fun, this Black Devil Doll is precisely what the doctor prescribed. At just 72 minutes in length, BDD admittedly does get a tad bit tired and repetitive at times, but I had a hell of a lot of fun with it and i'm pretty sure Jen did too - although i'm not sure she'd admit it to me or to herself, for that matter. It's trashy (very trashy), it's bloody, it's a muthafuckin' sex crazed puppet on a rampage and I highly recommend this soon to be muthafuckin' cult favorite to anyone with a muthafuckin' similar sense of humor to my muthafuckin' own. Anyone else need not apply. Black Devil Doll hits DVD next Tuesday, the 27th. Pre-order it now, MUTHAFUCKA! If you need any more convincing, check out the trailer.




I don't know why I blind bought this movie, but I did and that's that. I knew it would suck, but I have an intense curiosity when it comes to remakes and I just had to buy it when I saw it sitting there on the shelf - I never had a choice in the matter. What a horrible piece of crap this is and it looks 100x worse following so closely after a similarly themed, and infinitely better, bloodthirsty baby movie - Grace. Good timing, guys, real good timing. Whereas Jordan Ladd was perfectly cast as a desperate and endlessly devoted mother in Grace, Bijou Phillips was so horribly miscast in this one and turns in an utterly dreadful performance - which doesn't do any favors for the film, being as she's essentially the focal point of the whole affair. The other focal point? A horrifically CG'ed baby that appears normal at times and then demonic at others, proving that continuity was paid no mind by the filmmakers. This is a perfect example of why so many people hate remakes and the current state of horror with such a passion. First Pumpkinhead goes CG and now the Davis baby - when will it end?!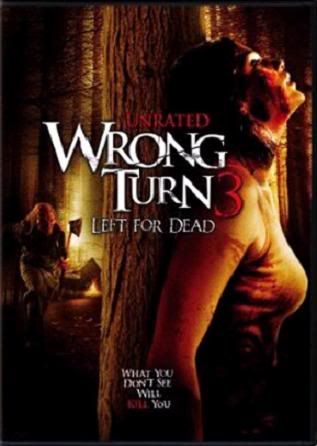 Well it looks like the Wrong Turn franchise has officially nuked the head. What started with a pretty cool and gory intro totally came crashing down with an unbelievably bad CGI death scene at the end of said intro and only slipped further down from there. This movie left me with nothing more than a strong desire to pop in Wrong Turn 2 and let Rollins kick the ass of the memory of me watching it. Again, the movie is brought down several notches by horrible CGI - but it's pretty awful all around anyways. Everything good that WT2 had going for it - kickass practical effects, good acting, good character development, a competent director, entertainment up the arse, Rollins - was totally absent from this third installment and replaced by the polar opposites on all counts - terrible CGI effects, horrific acting, zero character development, a SyFy original pictures director, boredom, and generic criminal characters that will never be as badass as Henry Rollins, no matter how much they curse and no matter how many people they kill. The Wrong Turn formula lays the groundwork for some gory kills and mindless entertainment and needs nothing more than those two ingredients to satisfy me and yet WT3 could not even provide that. Epic fail. I'll take even the edited for TV WT2 over this shit any day of the week.