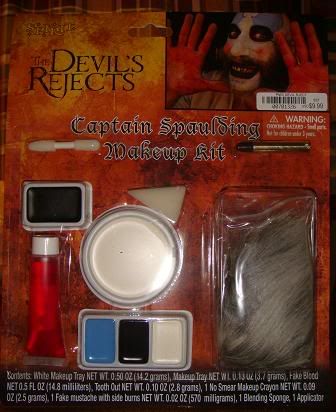 Stumbled upon this bad boy at Spirit Halloween and could not resist - i'm kinda a sucker for horror movie related tie-ins like this. I don't even plan on opening it because I figure if I really want to do a Captain Spaulding makeup job on myself, I already have a beard and can purchase all other ingredients necessary in any number of other kits, so i'm just gonna tack this on my wall as a cool piece of merch and maybe even get it signed by Sid Haig at a future convention. Gotta enjoy the little things!

If you want to pick up your very own Captain Spaulding makeup kit, you can do so over at Spook Shop for a mere $7.99.

We also picked up a bunch of other makeup stuff.....




....so there will be plenty more facial dress up fun to come this month! Keep your eyes peeled for the birth of Franken-Jen!