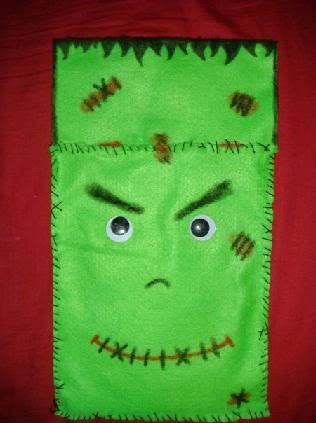 So Jen and I decided to start a new tradition this year for Halloween - the Halloween stocking. Taking a page out of Christmas' playbook, we decided we'd make each other Halloween themed stockings, filled of course with Halloween related goodies. Well Jen went above and beyond the call of duty when it came to making my stocking (seen above) and because she can never wait to give a gift, I got to crack into it this past weekend and i'm here to unbutton the back of Frank's head and share the contents! Speaking of Frankenstein....




First up we have a Frankenstein spatula, which I foresee flipping many a Halloween cookie in this next week. Maybe even a couple Sam cookies?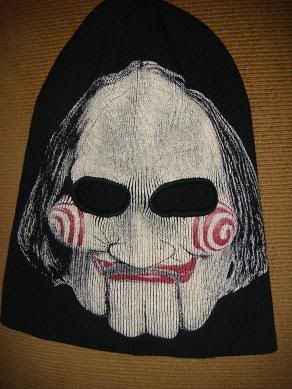 This Saw hat doubles as a mask, or vice versa depending on how ya look at it. I'd been eyeing this thing up for a few weeks at Spencer's, mostly with the intention of being the most badass dude on the mountain for this winter's snowboarding excursions, but it actually works pretty well as just a regular beanie too. This hat went on to become the highlight of my weekend, when a drunk Jen put it on and spouted lines from Saw to my friends and I on Saturday night. I wish I had video, but I sadly do not. It was a sight that I will not soon forget. "I want to play a game. You have drank many a beer and taken your life for granted...how much blood would you shed to stay alive?".




Fright Rags' Gate shirt! The Gate is one of my favorite horror movies from my childhood and i'm shocked it took this long to add this shirt to my collection. Now I just have to finally buy the Monstrous Special Edition and watch it before Halloween! Can't wait to introduce Jen to the flick.




Been dying to get my hands on this disc since it came out, mostly because of the special features that were not included with the standard DVD. Can't wait to check out the deleted scenes, in particular.




This baby is gonna look great next to my Mothman figure! I have an incredible interest in Cryptoids, so much so that I plan on getting a half tattoo sleeve of all my favorites. That is, whenever I can save up enough money for such a thing.




Glow in the dark Watermelon Halloween toothpaste! Will my teeth glow after I brush them with this stuff? Hmmmm....

And last but not least, the customary candy and a card - the coolest and most creative card i've ever been given.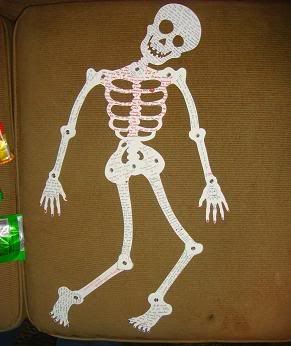 Don't try to zoom in and read what it says, ya nosy fucker!

Needless to say, the bar has been raised for my creation of Jen's Halloween stocking - a stocking that she will not be able to open until Halloween. I can't divulge the contents since Jen will be reading this shortly, but I will tell one thing since I already spilled the beans about it to her. Suffice to say, Sideshow's 15" Sam will soon be ours, when it ships in December!

If you dig the idea of a Halloween stocking, make one for a loved one and lets get this tradition rolling!

Next step - getting a black tree and tossing presents under it come Halloween morning. Of course, we'll be telling our future children that it is Sam coming down the chimney to deliver the goods, not merely us....

(Yes, we are both unhealthily obsessed with Trick 'r Treat's little pumpkin boy, as you will soon realize if you haven't yet when I post pictures of the Sam O'Lanterns we carved last night. And yes, as soon as my little devil spawn is old enough to pull it off, he will be Sam for Halloween - whether he likes it or not!)