It's kinda mandatory for all horror bloggers to make a generic Happy Halloween post on Halloween, so here's mine! Halloween day is both an awesome and sad day - awesome of course because it's Halloween and yet sad because it's all coming to an end. Fortunately, I try to live my life as if every day is Halloween, but the October anticipation for the holiday - where EVERYONE embraces horror - is something special and I always miss it when it's gone. But remember folks, just because Halloween will be over tommorow doesn't mean the fun is over just yet! Head out to your local Halloween shops and take advantage of their 50% off sales! Much like last year, i'll make a post next week about all the stuff I snag on clearance.

I leave you with perhaps the most godawful Halloween mask of all time - and it's shockingly officially licensed. Check out the "Saw Jonathan (yes, Jonathan) Kramer Tobin Mask" from Spirit Halloween, who have been having a 50% off online sale for the past couple days!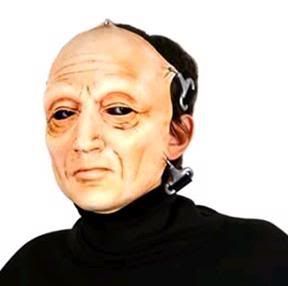 The fine folks at Spirit would like you to know that the awesome black shirt is not included. Well damn, that's a deal breaker for me!

Happy Halloween! Leave a comment with your plans for the day, as i'd love to hear 'em! Believe it or not, I really don't have any concrete plans other than to have some fun with the trick or treaters and watch a couple horror movies. My plans to be The Leprechaun or Michael Myers for Halloween fell through, due to a lack of money, so i'll have to slap a costume together to hand out candy. Maybe i'll even hit up Chiller Theatre later tonight? Hmmmm......

Oh one last thing! If you want to check out some awesome Halloween related content from my fellow horror bloggers, head over to both Countdown To Halloween and the Freddy In Space Hit List on the sidebar to your right, which will be updating throughout the day with some awesome linkage. Also, don't forget to enter my Week 4 Halloween giveaway, where you can win pretty much any horror dvd of your choice! Contest runs through today. Ok, now get off the computer and go hand out some candy, drink some pumpkin beer, and make the most of this very special day!