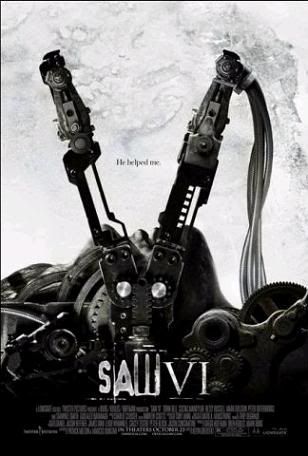 Proving that sometimes it pays to have no job and be a lazy little fucker, i'm gonna give those of you who are sitting on your asses at home right now an exclusive offer! I'm headed off to the post office in about 10 minutes to ship a few contest winnings and I noticed that I have a spare Saw 6 mini-poster lying around and wouldn't ya know it, Saw 6 just came out today! So to celebrate, i'm gonna ship this puppy out to one of you guys when I hit the post office in a couple minutes, but you're gonna have to act quickly!

The first person (from the United States) to send me an e-mail (mortis45@aol.com) with the subject "Saw 6" and their address in the body, will be sent the Saw 6 mini-poster right this instant! Hurry up, this is gonna go real quick!

*UPDATE* The poster has been claimed. Congratulations to Heather McGinnis!

I'm of course gonna go see Saw 6 later tonight and I will post my thoughts either late tonight or tommorow.