This week is a big one, with lots of hotly anticipated titles finally hitting store shelves. As always, I am only going to be discussing the DVD releases from this week that I personally have interest in or have something to say about. If you want to see every single horror DVD that came out today, Amazon is the best place for that. Speaking of which, click any of the title links to be taken to the Amazon pages for each release, where you can learn more about them, read customer reviews, or pick up copies of your own!
_____________________________________________

TUESDAY, OCTOBER 6TH, 2009




Audition Collector's Edition DVD & Blu-ray

Deceptively innocent at first, Takashi Miike's Audition finds a middle-aged widower of many years urged by his teenage son and his film producer friend to get out and start dating again. To help Aoyama meet women, his friend devises a plan to hold a fake audition for a leading lady. Reluctantly agreeing, Aoyama auditions 30 young hopefuls and falls for the silent beauty of Asami, a former ballerina with a dark past. Their courtship veers from quiet romance to psycho nightmare, realizing a sadistic breach of contract between filmmaker and audience of which Hitchcock could only dream.

Audition is a film that I liked the first time I saw it but never had much desire to go back and watch again and in fact, i've never watched it a second time. Maybe that will change with this new Blu-ray release of Miike's torture classic and I will finally have the balls to revisit it, in glorious high definiton.




The Children DVD & Blu-ray

You brought them into the world. They will take you out. A family anticipates a Christmas filled with sledding, laughter and hot cocoa as they head to their vacation home in the secluded backcountry. The holiday cheer takes a fast turn for the worse after a mysterious flu-like virus sweeps through the kids. One by one the children become deadly. Amidst the suspicion, mayhem and murder, the parents fight for survival against their own twisted offspring.

I've heard a lot of positive things about this one and the fact that it's set around Christmas time only makes me more eager to check it out. Christmas + horror = gold.




Dark Country

Two honeymooners rescue a mysterious car crash survivor in the Las Vegas desert. But their decision to save the man becomes increasingly regrettable when he turns on them, forcing the newlyweds to do the unthinkable. In a blur of paranormal chaos, the couple must take drastic measures to cover up their actions from the local police, ultimately leading each character to an inescapable fate.

You had me at Thomas Jane, Ron Perlman, and Lauren German. I've been anticipating this movie, also directed by Jane, since way back when it was planned to be a 3D theatrical experience - I even included it on my most anticipated of 2009 list. I can only hope it doesn't let me down like so many horror movies tend to.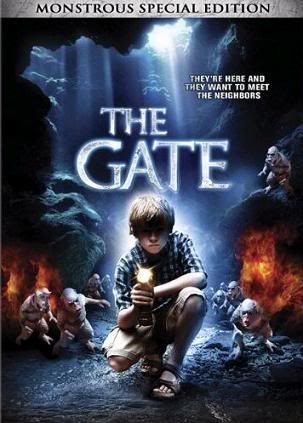 The Gate Monstrous Special Edition

After an old tree is removed from the ground, three young children accidentally release a horde of nasty, pint-sized demons from the hole in a suburban backyard. What follows is a classic battle between good and evil as the three kids struggle to overcome a nightmarish hell that is literally taking over the Earth.

FINALLY! The Gate is one of my favorite horror movies from childhood and it's still one of my favorites to this day and i'm so happy to finally see it getting the DVD re-release it has so deserved for so long. People have bitched about the cover art but I say who the hell cares? It's The Gate on DVD, what's there to complain about?! Can't wait to relive the fun all over again this Halloween season. If you haven't seen The Gate, run to the store and blind buy it, trust me!




It's Alive (2009)

When a young woman learns that she is pregnant, she leaves graduate school to set up a home with her boyfriend in the country. The fate of the happy new family takes a gruesome turn when animals and people end up brutally dead – all with a strange connection to their newborn. Could their new child be the monster responsible for the gruesome murders?

I'm sure this will suck, and will look even worse due to the fact that I just watched Grace not long ago, but i'm interested enough to check it out, if only because I dug the original.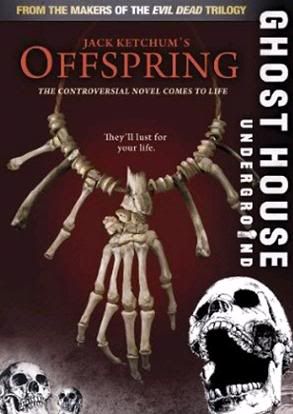 Offspring DVD & Blu-ray

A series of murderous home invasions in the sleepy seaside town of Dead River, Maine alarms the former sheriff George Peters. The events are eerily similar to a bloody battle he'd fought with a wild and savage clan a decade ago, which has managed to elude capture and survive by hiding out in forests and caves. When the clan leader discovers a secluded home, she orders her followers to abduct the residents, two women and their young children, to assure the cannibals' survival. But the kidnapped women have survival instincts of their own, and the former sheriff has a score to settle, even if it kills him.

I'm not too familiar with Jack Ketchum's work, and i've never read any of his books, but I saw The Girl Next Door a few years back and that was memorable enough to solidify the fact that i'll watch any flick adapted from his work from here on out. I've heard mixed reviews about Offspring, but none of them deny the fact that it's an incredibly brutal and gory stomach churner - so count me in!




Saw : The Video Game PS3 & X-Box 360

Jigsaw has laid out a gauntlet of torturous traps for a handful of innocents. Only you stand between them and the most brutal death imaginable. Think quickly and act! The clock is ticking. You are forced to make difficult moral choices. Who lives and who dies in the game is determined by YOUR choices. Unanswered questions from the films are finally laid to rest. Gamers will discover the origin of Jigsaw and why he devoted his life to games, while also finding out what happened to the characters from the first SAW movie. The asylum in which Jigsaw has trapped you is abandoned, but it is far from empty. It is a living world of horror populated by Jigsaw's minions and the insane souls they torture and they have no intention of letting you leave.

I don't buy many video games but i'm not gonna be able to pass this one up. It looks and sounds really fun and besides, just seeing a horror movie get a video game based off it, like the old days, makes me a very happy camper. I should have my thoughts on the game up pretty soon, once I get around to buying and playing it (for many hours this weekend, much to Jen's chagrin!).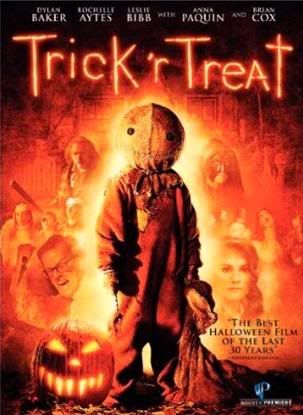 Trick 'r Treat DVD & Blu-ray

The doorbell rings, the cry goes out : Trick 'R Treat! But, wait. What's actually going on during this ghostly All Hallows Eve? Something eerie and unexpected. Something splattered and spooky. Something that brings ghouls, vampires and werewolves into the night. Answer the door – a shocking surprise awaits. From producer Bryan Singer and writer-director Michael Dougherty comes a multi-tale bag of wicked yarns, four cleverly interlocked stories built on Shocktober admonitions like always check the candy and don't extinguish the jack-o-lantern before midnight. So answer the door now : Experience horror made for today's fright fan.

Last but certaintly not least! I, like all of us, have been DYING to see this movie for over a year now and I was beginning to think i'd never see the day where that would actually happen. Needless to say, I already have my copy in my hands and am eagerly awaiting Jen's arrival home from work so we can watch it tonight. I haven't been this excited about seeing a new horror flick in a long loooong time. I really can't imagine not loving this movie, seeing as how pretty much everyone who has laid eyes on it has fallen in love. Review to come tommorow! By the way, you might wanna pick up the Blu as it's got a bunch more special features.

Other notable releases this week include Children of the Corn (2009), Deadly Little Christmas, Mary Shelley's Frankenstein Blu-ray, The Number 23 Blu-ray, Seventh Moon DVD & Blu-ray, Tales From The Cryptkeeper Season 1 & Season 2, The Thaw DVD & Blu-ray, and Wolf Blu-ray.
_____________________________________________

What releases are you guys gonna pick up/check out this week? Leave a comment and let me know!