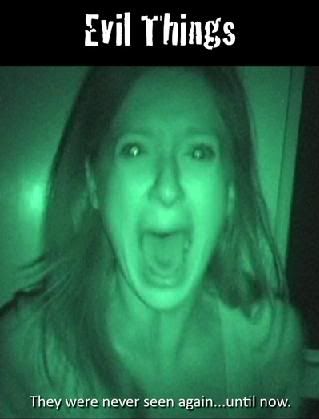 Remember that indie hand-held horror flick with the awesome marketing that I talked about here and reviewed here? It's called Evil Things and I loved it and that's why i'm kinda bummed out right now. As you know, I just saw Paranormal Activity last night and I couldn't help but make comparisons between the two. They're kinda similar flicks, but while one has gotten huge buzz and generated enormous talk, we've barely heard a peep about the other. I don't like this and i've found myself in a position to change this. Sometimes ya just gotta take matters into your own hands and this is one of those times for me. While my review of Evil Things did generate some talk and get a few other horror bloggers to talk about it too, it's time to take this to the next level and get this awesome movie out there. So I have decided to spearhead the Evil Things marketing campaign and i'm working with the director, Dominic Perez, to do so. But fellow horror bloggers, I NEED YOUR HELP! I want you guys to see the movie and if you like it, help spread the word on your own blogs. So here's what we're gonna do....

If you have a horror blog or website of any kind and you want to see and review Evil Things, drop me an e-mail at mortis45@aol.com with the subject 'Evil Things', let me know you want a screener, send me your address, and i'll have Dominic get one out to you. It's that simple. All I ask is that you watch it, give an honest review of it, and send me the link when you do. If you're a horror blogger that I communicate with on a regular basis, i'm probably gonna be shooting you an e-mail myself and in fact I probably already have your address on file, but drop me a line just in case.

Here's the trailer -



Lets band together and help get the word out there on this little seen indie gem! We have the power!