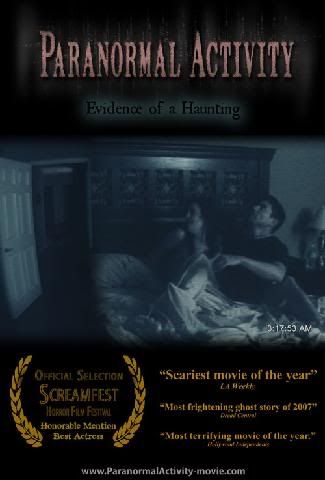 ....Paranormal Activity has done for sleeping in your own bed. And that kinda sucks for me because sleeping is pretty much my favorite thing to do - now I can't even do that! I'm not trying to be a tough guy by saying that movies do not often scare me, but movies do not often scare me. The last movie that really put the fear in me was REC (the end) and before that, The Eye (OG) several years back. It seems that a movie comes along about once every five years, if that, that really manages to do it and Paranormal Activity is most definetly one of those rare movies. It's not a perfect film but any movie that prevents me from taking that dark and lonely walk down the hall from bedroom to bathroom to take a squirt is more than worth all of my praise. So congratulations, Paranormal Activity.

So how scary is it? Pretty damn scary. There are several moments that are INCREDIBLY fucking scary and there are many stretches of the film that are so intense that I was literally gripped to the edge of my seat (cliche but true) and that is not an easy thing for a filmmaker to accomplish. So congratulations also to you, Oren Peli, for taking a mere $15,000 and one week's time and giving us one of the only true horror films in recent years. You have proven that talent and a good story are far more important than an excessive budget. You could learn something from this guy, H-Wood.

I have never in my lifetime experienced the theatrical experience that I experienced last night, and I loved every second of it. I never got the chance to see Blair Witch in theatres but i'd imagine that was very similar to the madness that ensued last night. First off, the 11:40pm showing that Jen and I planned on going to was sold out. That's the first time i've actually seen a horror flick sell out in my area. Secondly, there was a policeman outside of the theatre that the movie was playing in to ensure that nobody would fight over seating. He made us form a line outside which quickly wrapped around the building and then when we finally got inside the theatre, there was another line of people that had already been let in a bit earlier. We took our seats and within seconds the entire theatre, and we're talking a BIG theatre, was completely filled to capacity. The anticipation was palpable and the theatre erupted in applause when the previews ended and the movie was about to begin. When does that ever happen!? I hope you all get to experience the same thing I did because something like this doesn't come along very often. This was truly a special night and a great day for the horror genre.

You may have noticed that i've typed a bunch but haven't really gotten into the movie itself - well there's a reason for that. PA is the kinda movie i'd rather you go into not really knowing what to expect and if I were to talk about things that happened, and aspects I liked and didn't like, i'm afraid it would kinda take the piss out of it. So we'll save that kinda stuff for the comments section. When you see it, come on back and leave a comment with your thoughts and we'll get more into it in there. I will say that the only gripe I have with the movie whatsoever is the very end aka the "Spielberg ending", which comes off way too Hollywood-y and way too generic horror movie-y. From what i've read, the original ending sounds far superior - but the grass is usually greener, right? The only other fault I can find is that the hand-held thing has already been done a million times before, but so have zombie movies and I loved Zombieland so how can I criticize that? Besides, the non Hollywood looking cast and the acting make this one of the more believable and 'real' feeling entries in that overdone sub-genre anyway.

This past Summer may have sucked for theatrical horror, but this Fall is doing a pretty damn good job of making up for it, eh? Last week we got Zombieland, one of the best zombie flicks to date, and this week we got (or some of us got, rather) Paranormal Activity, one of the better haunting/hand-held cam films i've seen. The good news is that by popular demand, PA is opening wide as a saigon whore next Friday, so EVERYONE's gonna get the opportunity to see it! And believe me, this is the kinda movie you want to see with a jam packed audience full of screaming girls - so get out to the theatre while the buzz is still hot and have the daylights scared outta ya this Halloween season! I personally am more prone to being scared watching a movie alone in the dark at my house, rather than in a packed theatre, but the screams of underage girls were music to my ears last night (that sounded bad) and it really made the whole experience quite memorable. One last piece of advice - sit next to a scared looking female!

I leave you with a couple things I heard from fellow audience members as we were walking out of the theatre -

"I think I peed my pants....no really, I think I peed my pants."

"I'll tell ya one thing....I am not comfortable sleeping by myself tonight."

The former of which came from a full grown man and the latter of which is a sentiment that I, a full grown man, was totally agreeing with last night. I rest my case.