For all you UK'ers out there, you're in for quite a treat this holiday season. At long last, the Christmas horror classic 'Silent Night, Deadly Night' will be released uncut (for the first time ever in the UK) on region 2 DVD in just a couple short weeks (Nov. 23rd). Although we've had the flick uncut on DVD here in the states for several years now, I can't help but be incredibly jealous of the cover art you guys are getting. As much as I love the classic image of Santa coming out of a chimney holding an axe that's on the US DVD's (and on the shirt i'm currently wearing), this is by far one of the coolest cover arts I have ever seen. Please put this on a shirt or make a poster out of it!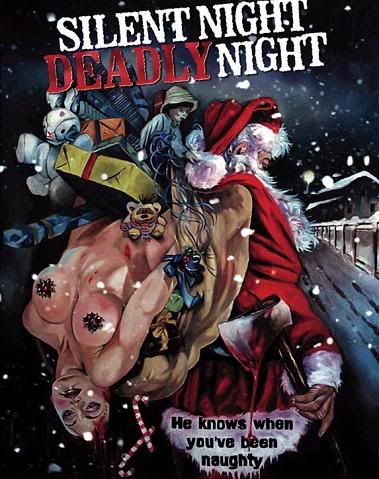 I have such a love for SNDN, especially around this time of the year, that I just might have to pick this one up even though I already own the rare and out of print SNDN/SNDN Part 2 Double Feature. Being that that set sells for upwards of $60 on Amazon, it's one of my most prized DVD possessions in my entire collection. SNDN was re-released (on its own) in 2008, which also went out of print - this time before I could snatch it up. As for SNDN Part 2, it can only be gotten on DVD in the afformentioned Double Feature set, which makes the DVD all the more precious to me. If only SNDN 3, 4, and 5 would come to DVD. If only it were a perfect world....

Oh wait! That's right! They are! On December first of this year, 'Silent Night, Deadly Night' parts 3, 4, and 5 will be released in the form of a box set - which can be pre-ordered right now for a mere $14.99!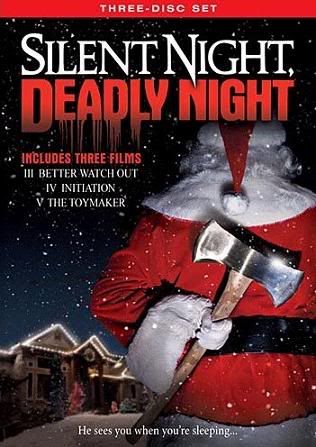 So whether you live in the UK or in the US, i'd say you have something to be excited about this Christmas!

Anyone else out there have a yearly tradition of watching the Silent Night flicks? I always watch part 1 and 2 but have never actually seen 3, 4, or 5. Needless to say, I cannot wait to have a marathon of all five next month!