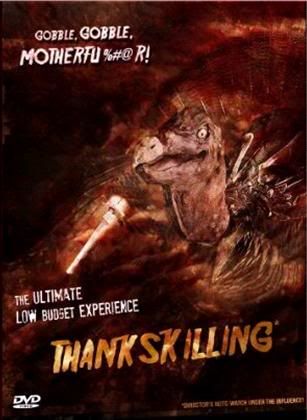 It opens with an extreme close-up shot of a veiny pilgrim tit and ends just over an hour later - but not before a wise cracking killer turkey tomahawks a shitload of people to death, rapes a chick, drives a car, and wears a dude's face. This is the heartwarming family friendly story of ThanksKilling, a rabid turkey on the loose flick that is perhaps the best rabid turkey on the loose flick of all time and dare I say even the best the Thanksgiving horror sub-genre has to offer - although it's not like it's against very stiff competition when it comes to either of these categories. ThanksKilling is an utterly ridiculous movie-watching experience but trust me, if you have an incredibly idiotic sense of humor, like I do, you will fall in love with it and i'm pretty sure you'll be popping it on every Thanksgiving.

But what about THIS Thanksgiving? Even if you order it right now on DVD (for only $11.99, mind you), you probably won't get it in time for Thanksgiving - and what fun is watching a turkey rape people after the holiday has passed? Wait, I take that back, that is ALWAYS fun. But what i'm getting at here is that you probably want to watch this movie on or before THIS Thanksgiving, am I right?

NETFLIX TO THE RESCUE!

ThanksKilling is currently available to watch instantly on Netflix and thanks to the new program they have created, those with a PS3 can even watch it right on their televisions! I really can't think of a better Thanksgiving gift for us all, can you?

If Troma style flicks are your thing, if Blood Freak is a yearly watch in your household, if the promise of a turkey raping and killing human beings gets your rocks off, or if you just need some good old fashioned horror fun injected into your holidays this year, then you will gobble gobble this shit right up, motherfucker!

If you want more Thanksgiving horror, be sure to check out the afformentioned Blood Freak and Home Sweet Home. And of course, don't forget to watch Eli Roth's faux trailer, for the thousandth time!