There are surprisingly very few companies out there churning out quality horror shirts, but those few companies are more than making up for this by putting out some seriously awesome shit. Companies like Fright Rags, Zombie Liquorice, and Mini Cassette, to name just a few, are picking up the slack by creating some amazing original designs and I wanted to show you guys the best of the best. These are not just movie posters slapped onto black t-shirts, these are truly wearable works of art that will make you proud to be a horror fan and even prouder to be a slick walking billboard for your favorite horror flick. Being that it's the holidays and all, maybe this post will give you some ideas as to what to get for any horror fans you might have in your life. Or maybe you'd just like to treat yourself. Either way, here are, in my opinion, the top 10 coolest horror shirts out there! Click the links to see bigger/better images and/or to purchase any of the shirts.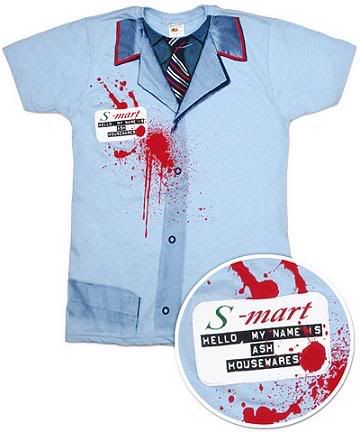 10. ThinkGeek - Ash's S-Mart Uniform Shirt

Many companies have put out S-Mart related shirts through the years, but this one goes above and beyond, making the wearer look like he/she is actually donning Ash's infamous S-Mart uniform - which lets face it, is a dream come true for most of us. This shirt would be the perfect addition to any Ash Halloween costume or the perfect conversation starter/head turner all year round. Wear it loud, wear it proud, and you'll quickly find out by reaction who among you is a Bruce Campbell fan - and by default, who among you is worth getting to know.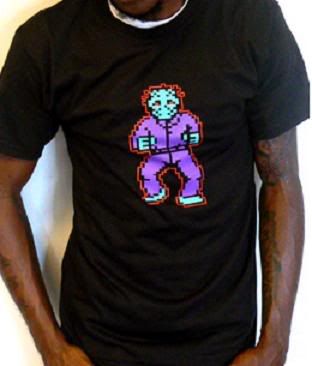 9. Mini Cassette - 8-Bit Jason

Anyone who has ever played the incredibly frustrating Friday The 13th NES game will surely have a soft spot in their heart for this image. Anyone who has never played it will have no idea what the hell this shirt is depicting - and that's why I love it. I love insider shirts like this that only a handful of people will get and be able to relate to and in fact, this is one of the first horror shirts I ever bought. Before Mini Cassette was Mini Cassette, they went by the name Nostromo Design and Nostromo single handedly showed a young me that there was hope yet for the horror t-shirt. While everyone else out there was lazily slapping boring poster art on shirts, Nostromo dared to be different and that's something they continue to do to this day. I should note that the original Nostromo version of this shirt was in black and white, whereas this one is in color.




8. Fright Rags - Exorcist

This will mark the first of many Fright Rags appearances on this list, and rightfully so. I've always been a huge fan of their shirts and when I first laid eyes on this one at the Monster Mania convention when it debuted, I immediately fell in love and immediately snatched it up. The vibrant neon colors make this incredible piece of art stand out even more than it already would on its own and i've yet to leave the house wearing it without getting a comment or two. In fact, the same can pretty much be said for all Fright Rags designs - but hold that thought!




7. Zombie Liquorice - Defaced Hoodie

When I originally started planning this list, I envisioned it being ten shirts that were based on specific horror movies - but I had to drop that idea when I realized that such a technicality would take Zombie Liquorice out of the running, which was just plain unacceptable to me. Zombie Liquorice is a Canadian company that is fairly new on my radar and they have pretty much written the book on zombie themed shirts, as far as i'm concerned. 'Defaced' is only the beginning of their gruesome designs and trust me when I tell you, they've got some stuff coming in the near future that is going to blow your collective minds. Keep a close watch on these guys, zombie fans. I must mention that I own this hoodie and not only does it look even more badass in person, but it is comfortable as all hell to boot - much like all of Zombie Liquorice's gear.




6. Fright Rags - Killer Klowns

Killer Klowns From Outer Space is one of my favorite horror flicks of all time and this shirt manages to capture pretty much all of the reasons why I love it - from the freaky clowns, to the popcorn guns, to the cotton candy cocoons. This shirt IS Killer Klowns - albeit in a wearable cotton form - and that's what makes it so kickass.




5. Mini Cassette - Little Ash

See what I mean when I say Mini Cassette dares to be different? While all other companies are throwing pictures of Bruce Campbell on shirts and plastering the words "Evil Dead" above his head, Mini Cassette is turning Bruce into a Lego and putting it on their shirts. Maybe it's just me, but the idea of Ash as a lego is one of the coolest and most creative things i've ever seen. If you dig this shirt as much as I do, be sure to check out MC's whole line of Lego inspired tees. By the way, is it any suprise that such a marketable and iconic dude as Bruce Campbell has popped up twice on this list?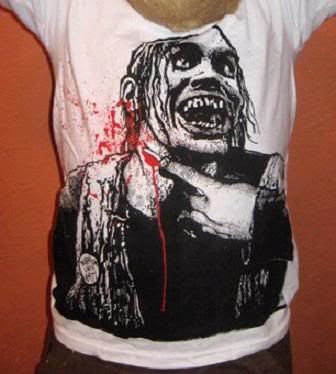 4. Trextshirts - Choptop

I just discovered this shirt on Etsy the other day and while I don't generally dig white shirts, especially when it comes to horror shirts, Choptop totally rocks it. The black image and white background with the blood being the only thing in color is what makes this shirt work so well. Trex also whipped up a really nice (and REALLY creepy) Leatherface shirt, which you can see in the Honorable Mentions section below.




3. Fright Rags - Zombie vs Shark

This is probably my favorite Fright Rags shirt of all time - that is, my favorite that is currently available. The fact that Lucio Fulci pitted a zombie and a shark against one another in his zombie epic was a total stroke of genius and the fact that Fright Rags decided to turn that memorable scene into a shirt was pretty damn genius too. I bought this shirt for a friend of mine at a convention and I can't lie - there were times on the way home from the con where I wanted to scratch the present idea and just keep it for myself! Epic scene, epic shirt.




2. Gallery 88/Alex Pardee - Trick 'r Treat

You've probably never seen this shirt before and that's because it is limited to 125 pieces worldwide and was only made available at an art exhibit in California this past October. Trick 'r Treat director Michael Doughtery worked with artist Alex Pardee to create this shirt and if you act quickly, you can pick it up in a size small or medium at the above link. Hurry though, because I can assure you it will be gone real quickly. It's no secret that I have a deep love for Sam and all things Trick 'r Treat and that combined with the awesomeness of this design make this the second coolest horror shirt i've ever laid eyes on.

And now, get ready to pick your jaw up off the floor.....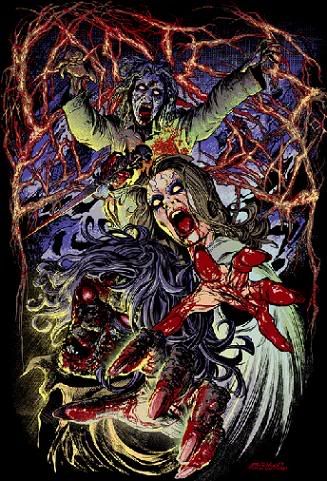 1. Fright Rags - Ladies of the Evil Dead Extreme Edition

First off, I cannot urge you enough to click the above link and see this design in all its high res 10 color glory. As cliche as it is to say, the above picture simply does it no justice.

Fright Rags has totally outdone themselves with this design and to say it earns the title of "Extreme Edition" would probably be the understatement of the year. What makes this shirt, being released this Friday, so extreme? Well, just look at it! Aside from the badass-ness of the design itself, this Extreme Edition boasts a plethora of special features, so to speak. Not only does each shirt come with a keepsake trap door collector's box, designed after the famous Evil Dead trap door that leads into the cellar, but each order also comes with an 11"x17" collectible poster signed by the three ladies of The Evil Dead and even a vial of dirt (aka Evil Dirt) dug up from the filming location of the flick! Talk about going above and beyond, eh? The shirt is limited to only 500 pieces and will be made available to newsletter subscribers only this Friday at 10am (EST), for the special price of $49.95. Non newsletter subscribers will have to wait until this Sunday, if there are even any left, and will have to fork over $79.95 - so i'd suggest you sign up for the newsletter right this instant. The stunning design and all the extra goodies make this shirt the coolest horror shirt of all time!

Honorable mentions :

Threadless - Jaws 3D, Nerdoh - Zombieland, Fright Rags - Gremlins (no longer available to buy), Fright Rags - The Gate, Mini Cassette - Mikey's Ride, Zombie Liqourice - Zombie Ice Cream, and Trextshirts - Leatherface.