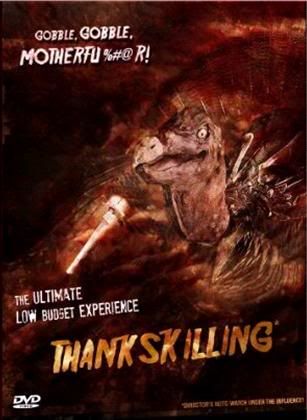 Remember that killer turkey on the loose flick, ThanksKilling, that I was raving about the other day? Well the director of the film has just supplied Freddy In Space with a copy of the DVD and i'm giving one of you guys the opportunity to take it home this Thanksgiving! But before we get to that....

The last contest I had on here, to win the new Natural Born Killers Director's Cut DVD, ended a week or so ago and though I contacted her, the winner never replied to my e-mail with her address. So on the off chance that you're reading this right now, killbillfanatic2005, you won the DVD but I need your address or else I can't ship it out to you! Please drop me an e-mail at mortis45@aol.com when you get the chance and let me know where to send this sucker. If I don't get a reply within the next week or so, i'll have to pick a different winner for the contest.

So who wants to inject a little killer turkey rape into their Thanksgiving this year? Here's all you have to do to snag your very own copy of ThanksKilling - the greatest Thanksgiving horror flick of all time! Leave a comment below with your e-mail address and the title of the horror film that you think is the most appropriate to watch on Thanksgiving. If you're feeling froggy, go ahead and tell me why you chose whatever movie you chose. Contest will run through Thanskgiving day and is open to EVERYONE. Good luck and Happy Thanksgiving to all!

By the way, if you don't want to wait and would like to watch ThanksKilling this Thanksgiving, it's available for instant watch on Netflix!