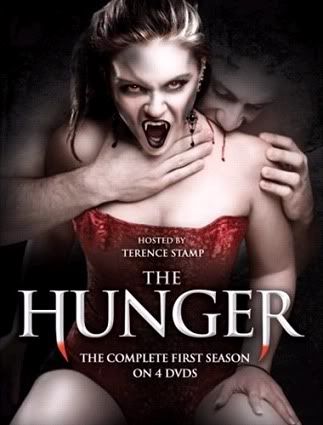 Where the fuck is my DVD of The Hunger : The Complete First Season?!

After entering a contest (this one) for the DVD on Scars' website this past June, this is the e-mail I received on June 14th :

"RE: The Hunger

Thanks, you've won a copy!

What's an address we can send to?"

I of course immediately shot over my home address. That was almost 6 months ago now and I haven't heard a peep from them since. I know some sites take an inordinate amount of time to get contest winnings to the rightful winners and I patiently thought for the first couple months that that was the case here, but now that we're coming up on the 6 month mark, i'm beginning to think that my prize just isn't coming. Where the hell did it go?!

Now Scars Magazine has my full support and I don't want to bash them or hurt their character in any way, but I felt I needed to address this. And don't get me wrong - I haven't been sitting by my mailbox anxiously awating this thing. I've never even seen The Hunger (movie or show) and this is not a DVD that I absolutely must own or that i'm craving like Edward craves Bella. It's just the principles of it and I really hope that this is just a flub up on Scars part and that this is not how they normally conduct business. I've always been pretty certain that many of the sites out there who host these giveaways keep the prizes instead of actually sending them out to readers and the fact that Scars contacts their winners leads me to believe that that is anything but the case with them, but i'd love to know what the cause of this 6 month delay is. So Scars, just let me know where my DVD is and i'll be happy!

Since we're on the subject of giveaways, what better time to announce the winner of the ThanksKilling DVD giveaway I held over Thanksgiving weekend. He's already been notified and his DVD has already been packaged up, but I always like to post the winners names on here so everyone knows people are actually winning and that everything's on the up and up. So congratulations, Shaun of Conroe, Texas - a whole lotta turkey rape is headed your way!

Also you may remember how the winner of the prior contest for the Natural Born Killers Director's Cut DVD never contacted me back with her address, which unfortunately for her means I had to go ahead and pick another winner. If this doesn't stress the importance of leaving your most current e-mail address along with your entry comments, then I just don't know what does. Sorry lady, but I tried several different methods of contacting you and gave you a full month to get back to me. I was left with no choice put to pick an alternate winner. The DVD will now go to Chuck from Tennessee. Congratulations Chuck, your DVD will be arriving on your doorstep real soon!

Stay tuned for a brand new contest, coming soon!