The turkey leftovers are gone, the calendar has been switched over to December, and it's beginning to look a lot like that time where you're gonna have to start buying gifts for friends and family. On top of that, you're gonna have to start deciding what to put on your own Christmas list. Both of these tasks can be daunting but with a little help from Freddy In Space, things are about to become a whole lot easier for you this Christmas. Throughout the month I will be posting horror movie related gift ideas from all over the world, which you can use either as a guide for what to get the horror fans in your life or for ideas of what to ask ole Santy Claus for. Whichever way you choose to utilize it, I can assure you that whoever is on the receiving end of any of the cool and unique horror goods I post in this guide - whether it be yourself or your gore fiend of a mother - will have the hap, hap, happiest Christmas since Bing Crosby tapdanced with Danny fuckin' Kaye!

Where better to start than with the gift that truly keeps on giving all year round - a magazine subscription. Second only to a Jelly of the Month Club membership as greatest Christmas gift of all time, a magazine subscription might not be the most exciting thing to open up on Christmas morning - being that it's just a piece of paper announcing such news - but you will truly come to appreciate the gift in the months to follow. Jen got me a subscription to Fangoria last Christmas and every month since, to this day, I have received a brand spankin new issue on the mail. You may be saying well duh Johnny, that's how magazine subscriptions work, but it's pretty damn exciting if I do say so myself. Think of it like this - a magazine subscription for Christmas ensures that you will get a gift delivered to your door every single month of the following year. That's what i'm talkin' about! Now that i've totally sold you on the idea, here are some awesome horror magazines to subscribe your friends to.




FANGORIA - 6 months (5 issues) for $34.47, 1 year (10 issues) for $54.47

While it's no longer the best the horror magazine world has to offer, Fangoria should and probably will always be a mainstay for every hardcore horror fan. They're beginning to tweak the way they do things a bit and get with the times and i've got a feeling that the old bull has still got some life left in her. And don't me wrong, it's still a great magazine that I fully support and wouldn't want to go without.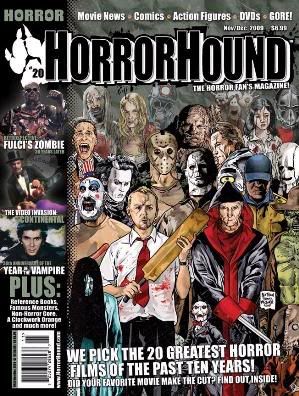 HORRORHOUND - 1 year (6 issues) for $34.00

In my opinion, this is the best horror magazine out there - blowing Fangoria totally out of the water. Although a new issue only hits once every two months, there's enough content in every issue to keep you occupied and keep you reading for that two month drought. Rather than just covering the new movies that are on the horizon, HorrorHound reads like the ultimate horror blog created by the ultimate horror fan - featuring tons of lists (ones you will actually agree with), DVD reviews, retrospectives, trivia facts, and whatever else the great writing staff can think to cram into an issue. When I say you'll be reading one issue for a couple months and not getting bored, i'm not exaggerating!




RUE MORGUE - 6 months (6 issues) for $59.70, 1 year (11 issues) for $74.95, 2 years (22 issues) for $134.95

This Canadian publication is the second best horror magazine out there, and it's a pretty damn close second. It's got pretty much everything HorrorHound offers and is quite frankly as good of a magazine, it just loses several points thanks to its $10 cover price. Eeek, this is definetly one you should subscribe to and not go out and buy every month.




Haunted Attraction Magazine - 1 year (? issues) for $35.00

Yes, there is an entire magazine devoted to the world of haunted houses - building them, running them, you name it. Whether you run a haunted house, are thinking of running one, or just have an interest in them, Haunted Attraction Magazine is for you. Like they say, reading the mag is like walking through a horror movie.




BIZARRE MAGAZINE - 1 year (13 issues) for $69.98, 2 years (26 issues) for $130.00

Warning : This magazine is only for those who are humored and amused by really fucked up shit! That being established, Bizarre magazine has been a favorite of mine for years - although i've admittedly stopped buying it due to the incredibly high cover price (over $10!). Truth be told though, if any magazine is worth more than ten dollars, it's probably Bizarre and with a subscription, you get each issue at almost half off that high cover price. Featuring oodles of naked women (who oftentimes have some sort of deformity or amputation), photos of dead people, and the strangest shit you've ever laid eyes on, Bizarre has always been an immediate conversation starter whenever anyone comes to my house and sees it on my coffee table. It's the kind of magazine that you won't be able to look away from - whether you want to or not!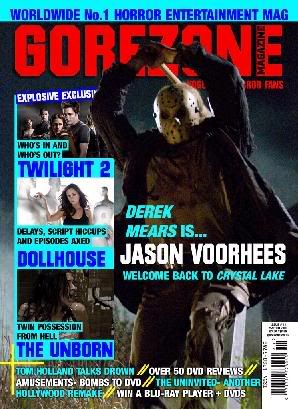 There's also a UK magazine out there called Gorezone (not the same Gorezone that Fangoria used to put out) that i've never read, so I can't vouch for it, but from what I hear it's pretty good. Click here to look into subscribing to that, if you're interested.