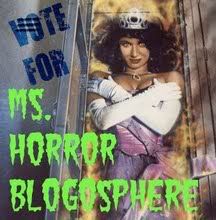 The Vault of Horror's B-Sol took it upon himself to host the first annual celebration of female horror bloggers and although the contest has stirred up some serious shit in the world of horror blogging, I fully support it and that's all I care to say about that. The contest has been going on for a week now and i'm sure most of you guys already voted, but I just wanted to help spread the word and throw in my support for a worthy cause. Here's the basic gist of the contest in a nutshell....

There are a lot of awesome horror bloggers out there who happen to be female and B-Sol wanted to bring this to everyone's attention by crowning the first ever Ms. Horror Blogosphere - a Ms. America of horror blogging, if you will. Throughout last month, B-Sol interviewed and profiled all of the contestants on his blog and threw up a poll last Tuesday to let the readers decide who the best female horror blogger out there is. Voting will be open until this coming Friday, December 4th, and the top vote getters will advance to the next level - wherein a second five day vote will be held. It's that simple, so show your support for women in horror by clicking the above icon to check out the contestants and vote for Ms. Horror Blogsophere 2009. When you do, come on back here and let me know who you voted for!

***EDIT*** : B-Sol just notified me that he has done away with the second round, so the winner of the poll ending this Friday will be crowned Ms. Horror Blogosphere on the spot!

And lest you think for any reason that B-Sol is sexist, as a few have alleged, the winner of Ms. Horror Blogosphere will be given the opportunity to hold a Mr. Horror Blogosphere on her own blog. Count me in!