There's a lot of shit on eBay that you just can't find anywhere else and in my travels over the years, i've found some pretty cool shit. Given this knack for finding cool shit, i've decided to start using this blog to document my travels through the vast world of shit people are reluctantly selling to put a little spending cash in their wallets. In layman's terms, whenever I find some cool shit up for grabs on eBay, i'll make a little post and share my findings.

I figured what better place to start than with a search I frequently conduct on eBay - the search for unique goods that were handed out to promote horror films throughout the years. I'm endlessly fascinated by promo items and i'm not talking t-shirts or pens with the title of the movie printed on them, i'm talking clever little treats like those blood bags that were sent out to horror sites to promote Chan-wook Park's Thirst - now that's what I consider cool shit. So in that vein, here's some kickass promotional goodies that are currently up for auction on eBay. If you weren't lucky enough to get sent these items or pick them up at a convention, this is just about the only way to get your hands on them, so go ahead and click any of the below links and place your bids on anything that catches your eye.




"DRIVE-IN HORROR Promotional SATAN'S SEEDS giveaway 1972"

As the description on eBay explains, "back in the days of drive-ins and grindhouse theaters they did all they could to get people to see the films and this is a great example." These packets of "Satan's Soul Seeds" were handed out to promote the 1970's horror film The Brotherhood of Satan and the idea was that you plant them to ward off evil - directions on how to do so were printed on the back. This particular packet, still sealed and in near mint condition, has a starting price of $9.99 and thus far has zero bids. One must wonder what would sprout up if they were to be planted...




"THE STRANGERS MASK MOVIE PROMO 2008 COMIC CON SDCC RARE"

As far as I know, a replica mask of "Man in the Mask" hasn't been made yet, so this plastic one handed out at the 2008 San Diego Comic Con is the best you're gonna get for now - short of cutting up a pillowcase and making your own. The seller has two available, each for Buy It Now prices of $12.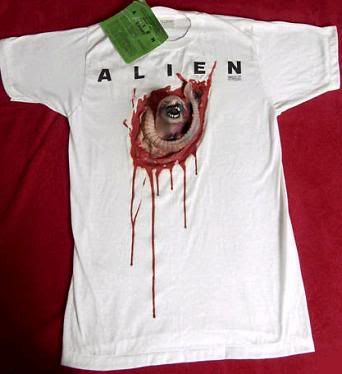 "Original Vintage Alien 3D Chestburster T-shirt"

What makes this shirt so cool, aside from the fact that it has a god damn 3D alien bursting through the chest piece, is that it is truly a vintage item - released way back in 1983. Unfortunately for those of us in the United States, this is a UK only auction, with a current bid of 25 Euros. There is however a US auction for this same shirt, although that one is going for $149.99 and the condition isn't so great. What's weird is that the two shirts have noticeably different patterns of blood splatter and I found a picture of a third shirt that also has a different pattern from both of the other shirts, making these shirts truly unique and one of a kind items, which would account for the high price tags.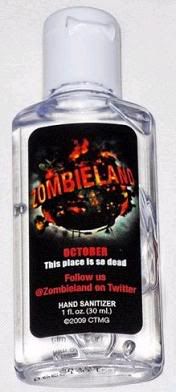 "ZOMBIELAND HAND SANITIZER EXCLUSIVE PROMO COMIC CON '09"

This is another Comic Con handout and it's precisely the kind of clever little promo item that I dig - a reference to the scene where Columbus asks if anyone needs any Purell after they kill BM. Although it's just a Zombieland sticker placed over a generic bottle of hand sanitizer, I still want one. The starting bid is $2.99 with a Buy It Now of $5.99, which would probably make it the most expensive bottle of hand sanitizer that you've ever bought, but again, the simple addition of a Zombieland sticker makes it an instant collector's item and worth every penny.




"Eli Roth's HOSTEL Part 2 II Promo movie spiral book"

I love the idea of a Hostel notebook but what really puts this book over the edge is the fact that the pages are labeled to look like meat packing slips, complete with bar codes, lbs, and sell bys. This is the kinda notebook I wish were around when I was in grade school. You can buy this meaty book now for $4.95.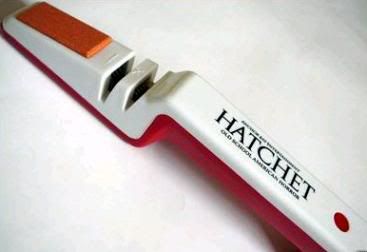 "HATCHET Horror Movie LIMITED Promo Knife SHARPENER rare"

Now this is a cool promo item because it's not just a cool thing to display in your room, it also has a purpose and can be used around the house. This knife and scissor sharpener was issued to concert venues, DVD stores, and movie theatres to promote the DVD release of Hatchet and can be bought for $29.99. This item again proves that slapping the title of a horror movie onto a clever tie in of a product is sometimes all it takes to make a kickass promotional piece. Can't you just picture Victor Crowley sharpening his blades with this bad boy?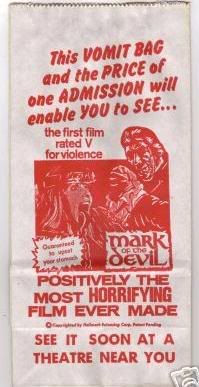 "MARK OF THE DEVIL VOMIT BAG SATAN HORROR MOVIE PROMO"

It's things like this that make me wish I were around in the days of William Castle and the cinema gimmick. Things like fake life insurance policies in the event that you die of fright during the movie and vomit bags like this one made going to the movies a fun and truly interactive experience - an artform that has long been forgotten. These vomit bags were handed out at the theatre when you went in to see the 1970's flick Mark of the Devil. Imagine how exciting and memorable it would be to be handed a vomit bag before going to see a horror movie? This one is selling for $2.99 and there are literally dozens of others up for sale on eBay at pretty much all times.




"CABIN FEVER (2003) - Promo Only - Sticker (Eli Roth)"

I actually bought one of these stickers a few months back and although it's a lot smaller than I was hoping it would be, it's still a cool little sticker - although it would've been a lot cooler if they put out actual band-aids that looked like this.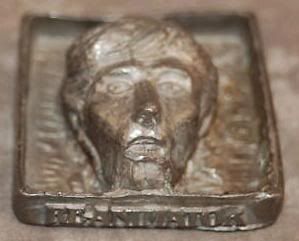 "Reanimator Horror Movie Promo desk weight RARE"

This is in my opinion the coolest promo item i've ever seen and i'm incredibly tempted to go ahead and bid on it. This paper weight was put out by Vestron Video, the label that released Re-Animator on VHS. This is a truly remarkable item from a bygone era that I so love, the era of horror VHS, and that's what really makes it so appealing to me. I also love the fact that if it weren't for the Vestron Video or Re-Animator tags on it, you'd have no idea what the hell it was supposed to be depicting - obviously the iconic image of Dr. Hill's head on the autopsy tray. This is such a cool relic, one i've never seen before, and I consider it a hell of a bargain at the starting price of $19.99. If anyone's looking for a belated Christmas gift for me...