In a few short days we cross over into a new month and next month isn't just February and Black History Month, it's also the first annual Women In Horror Recognition Month. Although i'm jumping the gun by a few days, I got to thinking lately about female villains in horror and I wanted to discuss it with you guys. While women are mostly depicted as scantily clad damsels in distress in horror flicks, running around from the big hulking dude with the chainsaw, we've also seen some pretty kickass female horror villains over the years that would give that dude with the chainsaw a run for his money. So I wanna know...

Who is your favorite female horror villain of all time?

Support Women In Horror Month by leaving a comment below with your choice! As for my choice, there's really only one that immediately comes to the forefront of my mind - maybe it's because I just watched this movie over again or maybe it's because this character is just that damn memorable and off the charts....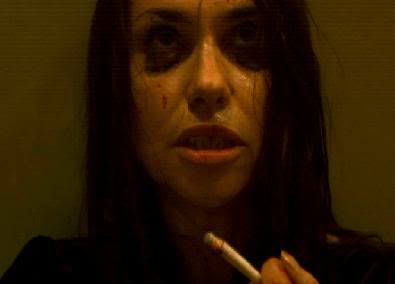 LA FEMME - BEATRICE DALLE - INSIDE

There has perhaps never been a crazier and more violent female ever committed to celluloid than La Femme (The Woman). She's not afraid to blow your brains out, she's not afraid to stab you in the dick with a pair of scissors, she's not afraid to cut the baby out of your womb (even if you're Johnny Depp's wife's sister), and she's not even afraid to snap your cat's neck and throw it against the wall - and dare I say she'll even manage to ooze a bit of sex appeal while doing so (is it just me?). In Inside, Dalle turns in one of those performances that makes you think, "This chick must really be this crazy in real life" - and wouldn't ya know it, after some research i've discovered that, well, she kinda is! Dalle was filming a movie at a prison a couple years ago and she fell in love with and married one of the inmates - a dude who was locked up for beating up and raping his girlfriend. Naturally, weeks after he was released from prison, the dude threatened to kill Dalle. I must also note that she was arrested for beating up a meter maid several years prior and she was torn between naming her child either Jesus or Mowgli (after the boy from The Jungle Book). So maybe her performance in the film wasn't such a stretch from her real life persona, but that doesn't change the fact that she crafted one of the most kickass and complex female horror villains of all time. La Femme isn't just a maniacal killer with no motive and no name, she's got some serious reasoning behind her actions and that's what I find so fascinating about her. Now i'm not saying she was justified in doing all or any of the things she did, but ya do gotta kinda feel for her, no? In some sort of incredibly twisted way she's the ultimate mother and therefore the ultimate female - thus the name La Femme, I suppose. Whatever way ya slice it, she's totally fuckin nuts and kinda hot in a totally fuckin nuts way and she's my favorite female villain of all time.

Who's yours?