Is VHS making a comeback?

A couple weeks ago it was announced that House of the Devil, Ti West's throwback to 80's horror, was being released not only on DVD and Blu-ray, but also on VHS (available in a combo pack with the DVD on Amazon for a mere $23.99). This marked what I consider a bit of a resurgence for the thought to be dead format and I just recently discovered something that is perhaps even more exciting and shows that this House of the Devil thing isn't just a gimmick, it might be the beginning of the return of VHS as an acknowledged format. Did you know that there is currently available a Blu-ray/VHS combo player? I shit you not, take a look...





The highest quality movie format available teamed up with the lowest quality movie format available - a pairing that I thought only existed in my wildest dreams. Now I gotta admit, although I love watching older horror movies on VHS, I prefer to watch the newer ones in the best quality possible - enter this bad boy to save the day, merging the past and the present, the high quality and the not so high quality, all into one piece of machinery. It's an awesome idea that will probably be criticized by those high quality buffs out there, but will surely be embraced by my fellow tapeheads that still proudly display their VHS collection for all to see. Although the price is a bit steep at the moment, I definetly intend on adding one of these to my entertainment system in the future. Kudos, Panasonic.

Now I thought perhaps hell had frozen over when I laid my eyes on that thing but it wasn't until this morning that I realized that not only has hell frozen over, but there's surely gotta be some pigs flying somewhere out there too. I work at a pharmacy/general store and part of my job is putting out the newspapers every morning before the store opens. This morning, as I was putting out the Southampton Press, one of my area's local papers, I noticed a familiar face on the cover.




Last summer Jen and I discovered a small video shop called Star Video a few towns over and I instantly fell in love. This was no Blockbuster or Hollywood Video, this was a tiny little mom and pop shop owned by a single man and walking into this place was like stepping into a time machine custom built to take me back to my childhood. Although there were DVD's and plenty of new releases on the walls, a majority of the store was still packed with VHS tapes - some for sale, others still for rent. It's not often that you find a place like this and I was shocked it was still open. How could a place like this stay in business? Who out there is still renting VHS?! Questions I wasn't able to answer but however it was staying afloat, I was sure as hell glad it was, and for that matter still is. Well I soon realized that the familiar looking dude on the cover was the owner of Star Video and the Southampton Press was not only running an article on him and his shop, but they made it a cover story to boot!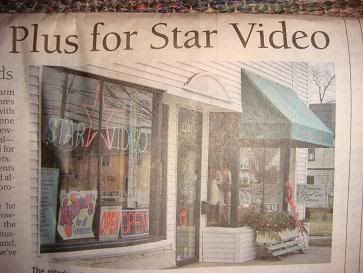 According to the article, the place has built up a pretty loyal customer base over the years and those customers continue to come back, which is how it has managed to stay in business for the past 20 years. Although business has admittedly declined over the years, the owner, Jerry Mulholland, is hopeful that the recent deal between Netflix and Warner Bros. (the one where Netflix will have to wait a month to make new Warners flicks available to their subscribers) will give his business a little boom. The place is a bit too far away for me to rent from, but I will certaintly continue to support it by buying used VHS from there whenever I get the chance. If there's one thing that will always have my continued support, it's a guy like Mr. Mulholland keeping the past alive and daring to fight the big corporations who have money in mind, not the customer's wants, needs, and convenience. Jerry Mulholland, you are my hero of the month.

I hope to one day take some pictures of the inside of the place to show you guys and maybe even conduct a little interview with the dude. For anyone who happens to be in the Long Island area and wants to pay Star Video a visit, it's located in Eastport, NY.

While we're on the subject of VHS, i've been meaning to talk about an awesome book Jen got me for Christmas - Portable Grindhouse : The Lost Art of the VHS Box Vol. 1.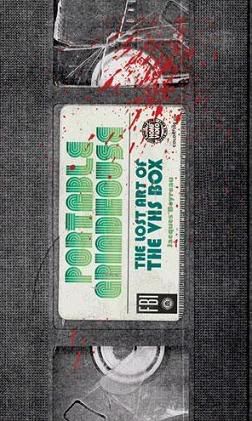 Portable Grindhouse is a book loaded with front and back cover art from horror/exploitation VHS boxes - aside from a few pages of text in the beginning where the author gives a brief history of VHS and talks about why he loves the format, these images make up the entire almost 200 page book. Needless to say, it's a fucking awesome book and a must own for VHS collectors. Although most of the cover choices are admirable - movies like Slaughterhouse, Video Violence, and Mad Doctor of Blood Island - there are some pretty strange choices, i.e. a Johnny Bench documentary and a Gary Coleman movie. Not sure why those made the cut but I guess the author, Jacques Boyreau, just wanted some variety. Regardless, it's a really cool little book that truly does act as a Portable Grindhouse and I can't wait until future volumes are released.

Ah what the hell, while we're here, let me give out a few cheap, and related, plugs.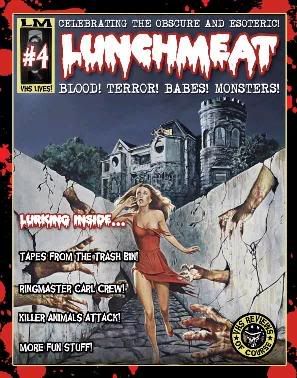 I've talked in the past about a fanzine called LUNCHMEAT and I was in fact just sent the latest issue a couple weeks back by creator Josh Schafer. The incredibly well made zine, featuring full color original cover art, is a four times a year love note to the world of horror on tape, chock full of reviews, interviews, and retrospectives about those old flicks that will probably never see the light of day on DVD. Much like Portable Grindhouse, it's a must get for VHS collectors and you can subscribe for 1 year (4 issues) for the cost of $20 either by visiting this link or by sending a 20 spot directly to :

LUNCHMEAT
710 Glendalough Rd.
Erdenheim, PA 19038

Trust me, you won't regret it.

And last but certaintly not least, I must plug the aptly named VHSPS - The VHS Preservation Society. What these guys do is transfer horror movies that aren't yet available on DVD onto DVD, complete with original VHS cover art, and sell them. It's a great service they're doing (especially for those people who have gotten rid of their VCR and don't want to buy another one) and you can either browse their selection on their website or check them out at various conventions around the country. Whenever I go to a convention I end up dropping the most money at their booth and i've picked up some true classics, including Don't Open Till Christmas and Clownhouse, which now proudly sit on my DVD shelf. These movies may never get the DVD treatment, but that's ok, because VHSPS has got our backs.

Did I mention I have an extremely large soft spot in my heart for VHS?