A week or so ago I got an e-mail from a fellow horror blogger who told me she had a bunch of stuff she needed to get rid of that she thought I might be interested in. She said she could sell the stuff on eBay, but she'd rather just give it to someone who would really appreciate it and for whatever reason, she chose me to be that person. I guess she felt like she owed me after I sent her my copy of Fright Night on VHS several months back, but i'd say I got a lot more in return than what I gave. The fact that she gave up some quick cash on eBay and even forked over 20 of her own dollars just to ship this package to me really shows what kind of person the woman known to the horror blogging community as The Froq Queen is. Chris, I am forever grateful to you for this and I most definetly owe ya one. Thank you so so much. Needless to say, you have single handedly restored my faith in humanity with this incredible gesture.

Before I crack open the package, be sure to check out The Frog Queen's blog, Frog on the Pumpkin, and also head over to Davis Graveyard, the website for the haunted yard attraction that she and her husband run in Oregon every year. I cannot urge you enough to show your support for one of the nicest and most genuine people in the horror blogging community, so please go check her out and follow her blog.

Lets open this bad boy up....




First up we have a promotional shirt for Clive Barker's Lord of Illusions. I admittedly have yet to see Lord of Illusions, but i'm pretty sure The Frog Queen knows of my obsession with promotional goodies and that's why she sent this one my way.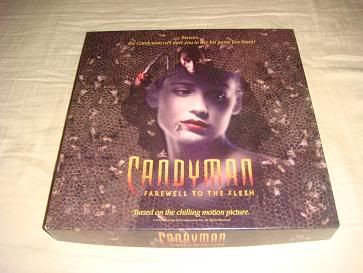 The coolest pieces of memorabilia are always the ones you never knew existed and I don't know about you guys, but I never knew a Candyman : Farewell To The Flesh promotional board game was ever made until this very moment!




The object of the game seems to be avoiding getting five Candyman cards, which in board game terms equals you saying Candyman five times in the mirror and evoking the power of Tony Todd. Can't wait to play!




Next up we've got a bunch of old horror magazines and newsletters from Clive Barker's fan club, Lost Souls. In case you couldn't tell, Frog Queen's a pretty big Clive Barker fan and wouldn't ya know it, I am too! I've never read any of these newsletters before and I look forward to delving into them.




I send Froq Queen Fright Night on VHS, she sends me Fright Night on Laserdisc - works for me! I've long been fascinated with Laserdisc, as I am with VHS, and this is now the first one in my collection. Someday I will buy myself a player, but for now this makes an awesome display piece.

And finally, speaking of Laserdisc, one of the coolest pieces of memorabilia I have ever laid my eyes on, and once again one I never knew existed, The Hellraiser Deluxe Collector's Edition Laserdisc Box Set....




Holy shit is this thing badass. Limited to only 2,500 pieces in the world, this set features Hellraiser on 2 disc Laserdisc as well as the screenplay for the flick, personally signed by Clive Barker!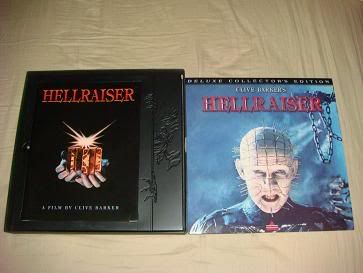 Something tells me that The Froq Queen could've gotten a pretty penny for this set on eBay and again, the fact that she instead chose to send it to me free of charge shows that she's one of the kindest people out there in this fairly unkind world.

Chris, while I don't know that I can ever adequately repay you for all of this, i'm sure as hell gonna try.

Thank you.