I almost got away with making my way through a major holiday without making a holiday themed blog post but alas, the temptation was too strong. But rather than telling all of you guys to go watch My Bloody Valentine or that movie with Denise Richards, I instead want to know....

What is your favorite horror movie couple?

As tempted as I am to say black JFK and Elvis from Bubba Ho-Tep, i've gotta go with the only vampire couple in film history to successfully convert back to everyday humans and live a happy life together, sun and all...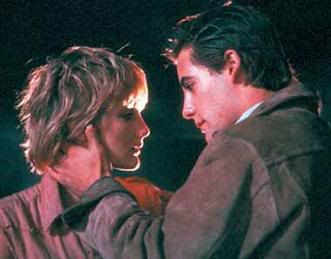 Caleb & Mae - Near Dark

Ya gotta love a woman who will kill for you and let you feed off of her because you don't have the balls to do it yourself!

The complex relationship and dynamic between Caleb and Mae is what seperates Near Dark from the rest of the vampire pack and makes it one of my favorite vampire flicks of all time and one of my favorite horror films to boot. I love them as a couple and while I would've loved to see them live forever together, I think the flick proved that they're better off living and dying together like the rest of us. Caleb and Mae, if you're still out there, Jen and I would love to double date with ya. Lets go listen to the night together - far away from Bill Paxton.

Coincidentally, the only vampire movie that gives Near Dark a run for its money in my eyes is Let The Right One In, and Oskar and Eli would probably be my second choice for favorite horror couple.

There just aint nothin' like vampire love and I fully expect there to be many vampire couples rattled off in the comments section of this post. Get to it!