Two quick reviews of two movies I watched over the last couple weeks that i've been meaning to get around to. Coincidentally, both movies are about brothers and both movies are awesome.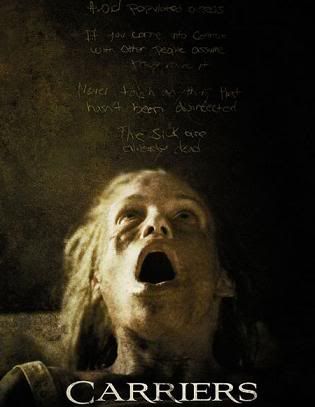 I am happy to say that I thoroughly underestimated Carriers. I got it from Netflix weeks ago and it had been sitting on my shelf for almost two weeks before I decided to pick it up and pop it in. Despite some positive reviews I had read, I expected it to be a generic 'few remaining survivors walk around a plague land' flick the likes of which I had seen a million times before and that's why I never bothered to watch it. Though it was in some ways a generic apocalyptic film, it turned out to be much more than that. I love when a movie blows away my expecations and Carriers did just that. What could've easily been a totally generic movie that went the zombie route went a totally different route and instead examined the relationship between brothers and friends, and i'd say the fact that it was written and directed by two brothers is what made the story so effective and so emotional. Must also say I underestimated Chris Pine, considering him up to this point as just another pretty face (haven't seen Star Trek), as he turned in one hell of a performance. Chalk one up for PG-13 horror!




The basic premise of Blood Creek is this - a Nazi has found the key to immortality and he cannot be stopped. An immortal nazi, is that not the greatest plot ever for a horror film? I'm all about Nazi horror and Schumacher's latest horror effort is one of the best in that sub-genre. It's totally original, gory as all hell, completely off the wall, and features one of the scariest and most memorable villains in recent years - played by the continually impressive Michael Fassbender. I don't know about you, but those are all the ingredients I look for in horror flicks. There were several moments throughout this movie where I literally out loud said "wow" and that doesn't happen often for a jaded horror buff like myself. Yes there is some bad acting and some bad CGI, but one of those faulty CGI scenes is such a cool scene that could've only been pulled off with CGI, so I forgive it. In fact, I forgive any and all flaws Blood Creek may have because it is so fucking awesome and different. Joel, I think I finally forgive you for the nipple suits.