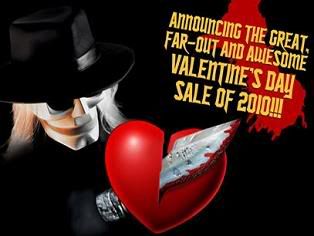 ***UPDATE : The sale has been extended through this Thursday, the 18th!***

I just got done watching Hellraiser on Blu-ray (seemed fitting being that it's been a pretty Hellraiser filled day for me), i'm fairly drunk, and I didn't intend on posting anything tonight, but Carl over at I Like Horror Movies just tipped me off to a crazy sale currently going on at Full Moon and I just had to make a post about it being that i'm gonna be gone for the rest of the weekend. I wouldn't want anybody to miss out on this.

For this weekend only, almost everything over at Full Moon's website is 50% off! That includes all DVD's, toys, shirts, posters, costumes, and even monster bras! The only things not included are the replicas. EVERYTHING else is not only half off, but there's FREE SHIPPING to the US and Canada! The sale ends Sunday night at midnight so act fast!

I just drunk bought Gingerdead Man 1 & 2, The Creeps, Castle Freak, and Evil Bong 1 & 2 for a mere $34.95. That'd normally be at least 70 bucks shipped, according to my calculations. I admit i've made some pretty regrettable drunk online purchases in the past, but something tells me i'm gonna wake up happy about this one tommorow morning!

Valentine's Day is normally a holiday only the women get excited about, but thanks to Full Moon, us guys can have a pretty damn happy one this year too!