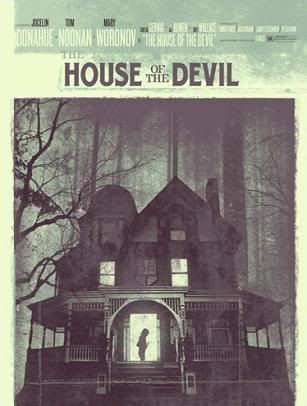 It seems like every other horror movie that comes out these days is meant to be a throwback/homage to horror movies of the past - at least the directors fancy them so. While many attempt it, very few movies pull this off and actually look and feel as if they came from a bygone time period. Not only does Ti West's House of the Devil (just released on DVD, Blu-ray, and even VHS) admirably pull this off, but it is without question the best and most convincing throwback ever made, fitting perfectly alongside flicks the likes of Rosemary's Baby and other devil themed genre greats. I shit you not, if you would've handed me the VHS and told me that this was a movie that was made in the late 70's/early 80's, I would've had no reason to doubt you and i'd fully fall for the trickery - it's that damn convincing in every aspect. From the clothing, to the hair, to the music, to the camera work, to the lead female character talking to herself to explain plot points, to the opening/ending credits sequences, and even to the old school style Coca Cola drink cups seen at a pizza joint, House of the Devil truly feels like a lost film from an era of horror cinema that we all love and for that, it gets serious brownie points from me. But all that aside, unclouded by my admiration for writer/director West pulling off such an amazing and respectable feat and unbiased by the fact that he put the film out on VHS(!), is this lost 80's horror flick any good?

Yes. It is very fuckin' good. I was pinned to my couch for the entire hour and a half runtime and could not look away from the screen for one second. There is a review quote on the back cover of the DVD from USA Today that says, (House of the Devil is) "Unbearably suspensful" - I couldn't have said it better myself. House of the Devil pushes the suspense to its absolute limit to the point that you can barely even handle it and I loved every second of it. The dread and impending horror looms around every corner, throughout every frame of the movie, but, save for one moment that I can think of, it's kept at bay until the last 10 or so minutes of the movie, at which point your frayed nerves are at a fever pitch. The entire brilliant first hour and 20 minutes is a build up to these final closing minutes, and that's precisely where my problem with House of the Devil comes in.

Don't get me wrong, I love a slown burn horror flick more than the next guy and I was HEAVILY into that slow burn aspect of this movie, that's not the problem I had with it. The issue I had is that with such a long, slow, and drawn out buildup to the end of the movie, the end of that movie needs a serious payoff - in my opinion, House of the Devil does not deliver that payoff. It builds builds builds and then just kinda fizzles out and ends, never really giving me what I wanted or was waiting for the entire movie. That one moment that West seemed to be holding off for as long as he possibly could never came. Maybe it's my own fault for expecting some big or shocking revelation/conclusion, but I couldn't help but feel slighted and cheated by the movie when it left me high and dry after all the time and energy I put into it, not to mention after how much I was digging it. It's as if I was having really great sex with the hottest chick in the world (aka my girlfriend Jen, of course) for 90 minutes and then right when I was about to finish, she got up and walked out of the room. Once more I say, House of the Devil gave me blue balls of the most painful kind. Again, maybe it's just a case of me expecting too much, but the whole movie goes with a "what the fuck is gonna happen, I can't wait any longer!" premise and thus, I can't help but feel that a "holy shit, I can breathe again but I can't pick my jaw up off the floor!" ending was required. Especially given the fact that we all pretty much knew where the story was headed (it's all but given away on the DVD cover and in the opening title card for the movie), I really expected something totally different than what one would normally expect from such a film. What I got was a lackluster and fairly generic ending, albeit one that remained true to the films it was homaging.

But the thing is, I highly enjoyed that buildup and though the ending didn't deliver, that didn't kill the movie for me. Everything that came before it was so good that I quite frankly would've probably looked past even the worst of endings and still loved the movie (High Tension, anyone?). Don't get the wrong idea, the ending to the flick isn't bad, it's just that I feel like we as an audience deserved a little bit more. Oh well, House of the Devil is still a really awesome movie that i'd highly recommend to anyone, no matter the format you choose to watch it on, and Ti West has firmly planted himself on my radar. Up next from West, Cabin Fever 2 on February 16th. Should be quite the departure from this one and I for one can't wait.

I can't end this post without giving serious props to the whole cast of House of the Devil, who all do incredible jobs. Genre legends Tom Noonan, Mary Woronov, and newcomer Jocelin Donahue, especially. The Jessica Harper-esque Donahue feels like she was plucked right out of the 80's and she's one of the main reasons the whole throwback feel really works. Brilliant bit of casting with that one and a great performance.