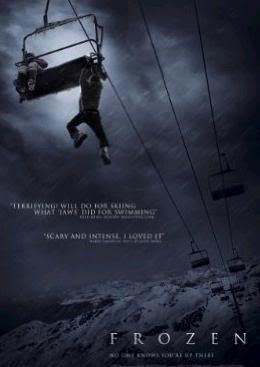 Does your local theatre only play remakes and mainstream garbage? Are you sick of having to wait until DVD to see original horror? You're not alone, but you can help change this.

If any movie in the history of horror cinema has shown us the power of the fans banding together to make a movie we love a success, it's Hatchet. Well now the director of Hatchet, Adam Green, has a new horror film coming out this weekend and we need to all rally together once more to get this thing the wide release it deserves. While many theatres around the country will be playing Frozen this weekend (mostly in major cities), it's not getting nearly as wide of a release as films like The Unborn and Prom Night were given - and that's something we just cannot stand for. Simply put, if Frozen does well this weekend, it will be given that wider release and it will be seen by a heck of a lot more people around the world - that's what it's all about and that's what we gotta shoot for.

Now I know that most of you guys haven't seen Frozen yet - don't worry, I haven't either - but if you support Adam Green and have been a fan of his previous work, then I think you owe it to him to support anything he does, sight unseen. The way I see it, Green hasn't let me down yet and that's enough for me to rally for him in anything he does. Besides, given the reviews so far for Frozen, i'm pretty damn confident he's not about to start letting me/us down now.

So how do you support the cause? It's pretty simple - head to the theatre this weekend and go see the movie! If you know anyone who might be interested in checking it out, let them know about it. If you have a horror blog, make a post about it. If no theatres near you are playing the movie, go to those theatres and demand it. And if you're really feeling ambitious, do what i'm gonna do and take to the streets and hand out some fliers. Where do you get the fliers to hand out? I'll do all the work for ya.

I'm gonna be making up some fliers advertising Frozen to hand out to anyone who might be interested in my area, consisting of an image of the poster art, the plot, the URL of the site where more info can be found, and the theatres it will be playing at near my area, and if anyone is interested in doing the same in their area, i'd be more than happy to make fliers up for you with the theatre listings near you. I'd send you the file and all you'd have to do is print them out and hand them out. So if you're interested, please don't hesistate to leave a comment or drop me an e-mail and i'll get that out to ya. Sound good?

Head over to Ariescope for full theatrical listings and the film's website to buy your tickets.

Leave me a comment and let me know if your area is getting Frozen this weekend and let me know if you plan on joining in on the fun!