The name Louis Tripp may not ring too many bells out there, but one need only take a quick glance at the below photo to know who he is and to wonder where the hell he's been all these years...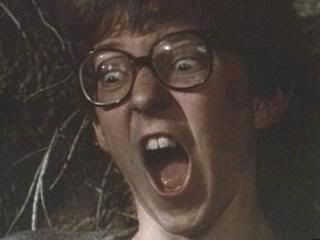 That screengrab is of course from the 1987 cult classic The Gate, where Tripp played Terry to Stephen Dorff's Glen. While we know that Dorff has gone on to a fairly successful career in Hollywood, you'd be hard pressed to find just about anyone who knows where the hell his Gate co-star went off to after the 80's. Aside from having his likeness appear on a pretty kickass Fright Rags shirt within the last couple years, our old pal Louis Tripp has seemingly fallen off the face of the earth post Gate/Gate 2 and that makes me sad, given the fact that the death metal obssesed Terry is one of the coolest horror kids of all time and he's one of the key components of my love affair with The Gate. If I could go back in time and be a kid again and I was given the opportunity to pick one kid from the movies to be my best friend, i'm pretty sure it'd be Terry. That being said, I had to know - where the hell is he now?!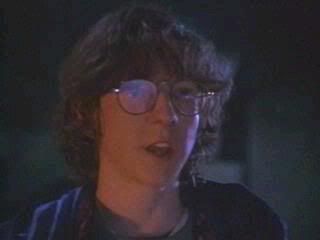 (Picture taken from The Gate 2, where Tripp reprises his role as Terry)

After some serious digging, i've sadly turned up very little info regarding the whereabouts of Louis Tripp but the couple tidbits I did discover, whether true or not, are pretty damn shocking. Back in 2008, the horror website Bloody Good Horror ran an article very similar to this one where they were trying to determine the fate of Tripp and what they found was a man by the name of Patrick who claimed to be a former co-worker of Tripp's, at a Canadian call center - this is apparently where Tripp was last seen working, in 2000, and hasn't been seen or heard from since. Strangest of all, he's allegedly had a bit of a name change....

"His legal name is now Twelve Twenty (L is the 12th letter of the alphabet, T is the 20th)."

I'm not sure what to make of that and again, it could for all we know not even be the truth, but as Bloody Good Horror stated a few years back, it certaintly piques the interest and really makes ya wonder what's going on with this dude. For now, I guess he will continue to remain a Hollywood mystery. And if you're wondering if the recent re-release of The Gate onto DVD helps shed any light on this mystery, it does not. I went through the couple special features on the disc and no mention of Tripp is made.

If you want to see the last known photograph of Louis Tripp, you're gonna have to head out and pick up 1999's Detroit Rock City and scour the film for what IMDb refers to as the uncredited 'nerdy kid' - this was Tripp's last appearance on film. If anyone could get a screengrab of that, it would be much appreciated. And if anyone out there knows anything at all about the current whereabouts of Louis Tripp, or should I say Twelve Twenty, please do share!

Oddly enough, I just realized that according to IMDb, today is Tripp's 36th birthday - how strange that I was compelled to make this post today, eh? Happy Birthday sir and if you somehow end up reading this, please come out of the woodwork and start making some convention appearances!