Several months back, when I was browsing through Etsy in search of cool and unique stuff to fill Jen's Christmas stocking with, I came across a shop called Tenderfoot Creations, which specialized in curious little plush toys, and I found one of the coolest things I had ever seen - a lucky Sasquatch foot. Think lucky rabbit's foot, except bigger, hairier, and resembling that of Bigfoot's....foot. I immediately ordered one and so fell in love with it upon seeing it in person that I couldn't even wait until Christmas to give it to Jen. Is it just me, or is this thing the epitome of cool and unique?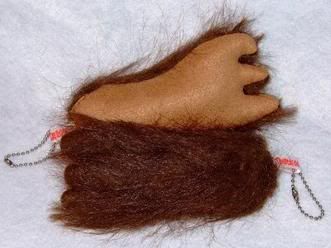 This is the kinda thing Etsy is all about and if it were up to me, the lady behind Tenderfoot Creations, Sara Patalano, would be bathing in buckets of money right now because of these things. While I obviously can't make that happen, I sure as hell can try to get the word out there as much as possible and so I messaged Sara a couple weeks back and asked if she'd be willing to supply one of her Sasquatch feet for a giveaway on here - she said yes and quickly made one just for one of you guys. Huge thanks and props to her for that. So if you want your very own Lucky Sasquatch Foot, here's all ya gotta do....

- Head over to Tenderfoot Creations and browse around the shop.
- Come on back here and leave a comment on this post telling me the name of another product available from Tenderfoot.
- Be sure to include your e-mail address so that I can contact you in the event that you win.

Contest is open to everyone and will run through next Wednesday, the 17th, with the winner being chosen on the 18th.

As always, good luck to all!

For more information on Tenderfoot Creations and to keep up to date on Sara's latest creations, head over to the Tenderfoot Creations Blog. You can also catch up with the company on Twitter and Facebook.