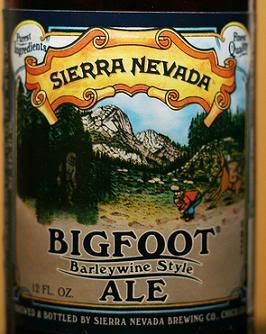 I love horror movies and I love alcohol, but what I love even more is a combination of the two. Sitting down to watch a horror movie with some alcohol in hand is about as good as it gets, but it gets just a little bit better when that alcohol has a horror spin on it. I speak from experience and in fact I just got done watching Frankenfish (awesome!) while sipping the above Sierra Nevada Bigfoot Ale (not so awesome). While the beer itself is barely drinkable, there's just something about a cool packaging and a cool name that I can never pass up. As you can imagine given my proclivities, I can often be found spending far too much time at different liquor stores on the east end looking for horror themed bottles. Here are a couple i've found in my travels.




Elvira's Night Brew

After ending her 10 year affiliation with Coors, Elvira put out this beer in 1996. Although it was short lived, Elvira will live on as the first celebrity to have her own line of beer.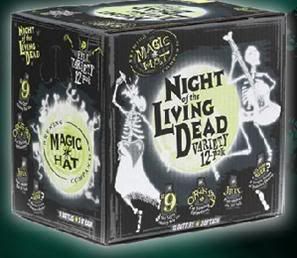 Night of the Living Dead Beer - Magic Hat Brewery

This 12 pack available only around Halloween time features three bottles each of four different types of beer. While the beers themselves range from decent to downright disgusting, I still pick up one of these packs every October, proving that good packaging is sometimes all you need. You sell your beer in a package like this, i'm buying it.




Dead Guy Ale - Rogue Ales

Proving the point I just stated above, this beer was released in the early 90's, sold poorly, was renamed and emblazoned with the Day of the Dead skull dude, and is now one of Rogue Ales' best sellers. Although the beer is available year round, Rogue steps it up around Halloween time and releases special glow in the dark bottles.




Aluminum Nosferatu - Great Lakes Brewery

Eco friendly aluminum beer bottles have been around for a while now, but designer Ricky Salsberry decided to step it up and put iconic black and white images on the otherwise bland looking bottles. One such bottle features Nosferatu himself.




Vampire Wine - Ti Beverage Group

Being that wine already has the color of blood, it was only natural that a company would come along and market it as such. I don't know about you, but i'm much more prone to buying a bottle that capitalizes on this fact than one that doesn't.




Vampyre Vodka - Ti Beverage Group

Yes, this is just vodka with red food coloring added to it, but that's good enough for me. Vampyre is also available in the traditional clear color, but who the hell wants that?




Crystal Head Vodka - Diamond Estates

Is that not the coolest bottle ever? My dad came home with one of these sometime last year and we have still not opened it, choosing instead to utilize it as a display piece. I've been told the vodka itself isn't so great, but who cares! As if this wasn't already cool enough, Crystal Head is the creation of Dr. Raymond Stantz himself, Dan Aykroyd.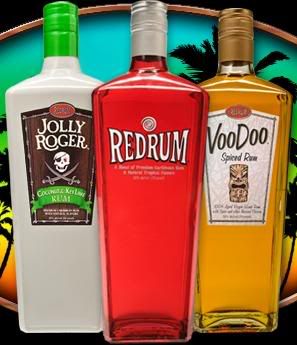 RedRum, Jolly Roger Rum, Vooded Spiced Rum - Three-D Spirits

Although the RedRum doesn't play up the horror aspect at all aside from the name, a bottle of rum named after The Shining is enough for me. Three-D, you're one hell of a cool company.




Kraken Rum - Proximo Spirits

As I said to a friend of mine who brought this out the other night, the only thing that would make this cooler is if the handles were made to look like Kraken tentacles. Gotta love the tagline too - "Put a beast in your belly".




Jekyll and Hyde Liquers - Long Tail Libations

These two bottles can either be drank seperate or together, with the black herbal one resting on top of the red berry flavored liquer. Either way you choose, this bottle set is fucking awesome and if I ever personally stumble upon it, i'll probably keep them sealed. Interesting to note, this is the first liquor from Anheuser Busch, the company known the world over for producing Budweiser. Off to a great start if ya ask me.

While we're on this subject, I must mention a unique related product i've found on my travels through eBay lately. There's a guy on there who is making custom horror themed beer bottles, empty of course, that feature original artwork depicting iconic horror villains along with cool little names and slogans. Here's his 'Machete Malt', which has the tagline, "This Blade's For You!".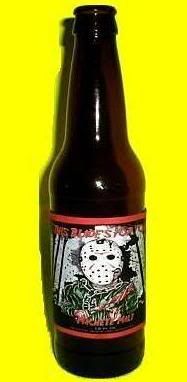 More bottles can be found at Strait_Jack's eBay shop.

If anyone has found any other cool horror themed alcohols out there, drop me a line and let me know!