A couple final thoughts and final pictures and then we can wrap this coverage up, being that it's now a week and a half after Monster Mania. Perhaps this extended coverage, much like me still wearing my weekend bracelet, is my little way of holding on for dear life to all the fun I had at Monster Mania 14....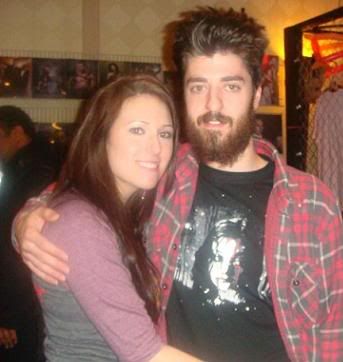 First off, after I posted my Rocky Horror recap, Jen reminded me of a pretty funny story from that show that totally slipped my mind - and for good reason. Legend has it that I saw a sexy female crawling around the stage in a skirt, panties fully visible, and I got a bit turned on and said to Jen, "Whoa, I think I just cheated on you." Turned out that this sexy female was a dude who works for the Rocky Horror crew who goes by the name Naked Guy. Woops. It's amazing how a man can be so blinded by what he thinks is an upskirt shot of a female that he'll totally look past and in fact not even see ass hair and a dangling set of balls. Let this be a lesson for all you men in relationships who try to sneak peeks at other women!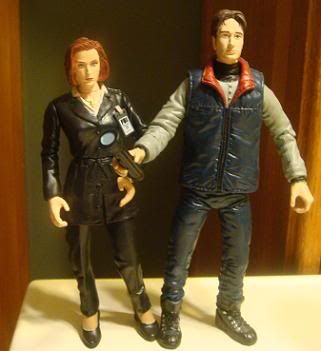 Found these Mulder and Scully figures in the garbage outside the elevator on our floor on Saturday, still in the packaging. It seemed like whoever bought them just wanted the creatures/accessories that came packaged with them, so they pulled them out and tossed Mulder and Scully in the trash. Score!

In addition to the stars I talked about meeting in a previous post, Jen and I also met a blue fish guy who we later saw making out with a dude (nothing wrong with that)....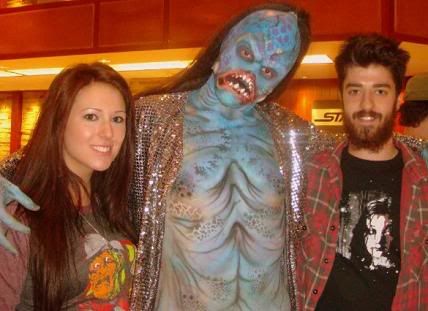 ....another blue creature, a real life Navi....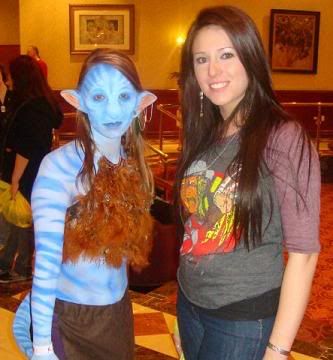 ....a flirtatious Leatherface....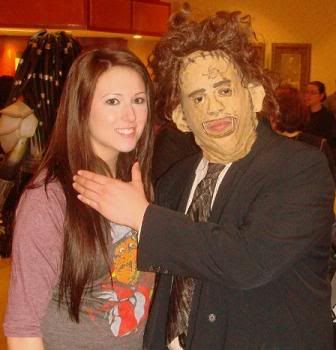 ....and the deadly duo of Freddy and Predator....




And that covers just about everything that hasn't already been covered that's worth covering. Despite the fact that Gary Busey was an asshole, I didn't buy all that much (and yet spent everything in my wallet), and Jen and I drunk slept through all the big events of the weekend - including a Corey Haim tribute, Full Moon's Horror Roadshow, a Dario Argento Q&A, and the world premiere of Closed For The Season - Monster Mania 14 will go down as one of my favorite Monster Mania experiences of all time. Although meeting stars who i'm a fan of and buying cool merchandise you just can't get anywhere else is awesome, horror conventions to me are all about meeting and hanging out with likeminded people, and Jen and I met a lot of new friends this past Monster Mania weekend. These conventions are a place where all of us belong, where all of us have the same passions, and where we all just want to get drunk and talk horror - that's what it's all about at the end of the day. As my dad looked through pictures on our camera that we took throughout the weekend, he said that he barely even recognized the person in pictures such as this one, being that i'm normally not the life of the party kinda guy - in my daily life, i'm pretty quiet and usually come off unhappy and angry. And he's right, at horror conventions I kind of am a different person, but that drunk happy guy with his arm around a fellow horror fan he never met until a couple hours prior is the real me. Unlike anywhere else, I can 100% be myself inside the walls of a horror convention - I don't know about you, but to me, there's no greater feeling than that. One last time I say, thank you Dave Hagan for giving us horror fans a place where we belong and thank you to all the people who made my weekend so much fun.

Until we meet again, Monster Mania!

Speaking of which, here's the Monster Mania schedule for the rest of 2010. Start planning your trips NOW!

MONSTER-MANIA CON XV : CHERRY HILL, NJ AUGUST 20-22

MONSTER-MANIA CON XVI : HUNT VALLEY, MD SEPTEMBER 17-20

MONSTER-MANIA CONN II : HARTFORD, CT TBA