The highlight of my Monster Mania weekend was not meeting a horror star or snagging some cool piece of merchandise, it was a totally impromptu and unplanned gathering that looked a little something like this....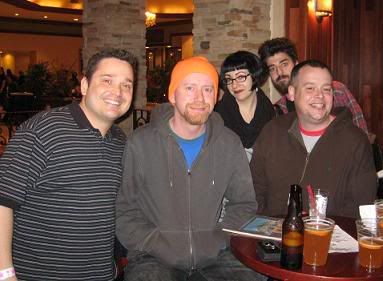 About a month ago I found out that Geof from Enter The Man Cave (far left) was going to be attending Monster Mania and so we decided to meet up and grab a drink - this would be the first fellow blogger I would ever meet in person. We decided to meet up at the bar on Saturday afternoon and so that's where I was Saturday afternoon, and for most of Saturday for that matter. I was headed over to the bar to grab a few drinks and I got called over to a table by a guy asking if I was Johnny from Freddy In Space. This was not Geof, it turned out to be John and Lance from one of my favorite blogs of all time, Kindertrauma! They're the two dudes sitting in the picture. As if that wasn't cool enough, sitting with them was Teneberous Kate from Love Train For The Teneberous Empire! I had no idea any of them were gonna be there, so this was pretty damn cool and exciting. I texted Geof asking if he made it to the bar and after a while we realized he was sitting at the table right next to us and neither of us had any idea. So Geof came over to the table and all of us horror bloggers sat there for a couple hours shooting the shit and drinking the day away - I literally missed all Monster Mania events and panels for Saturday due to this gathering, but it was totally worth it.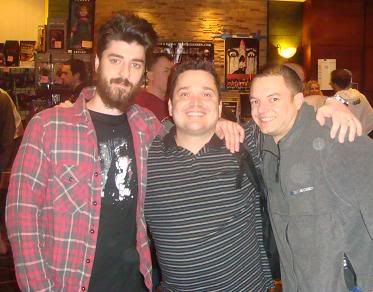 Geof brought along his friend Dan, who had never been to a horror convention before and who wasn't even too hardcore into horror movies. In fact, Dan's coming to the convention was a last minute thing from what I understand. It didn't take long before he got a few drinks down and was bit by the convention bug - i'm pretty sure he ended up having the best time there out of any of use diehard horror fans. Here we are after a seemingly neverending round of exchanged drinks....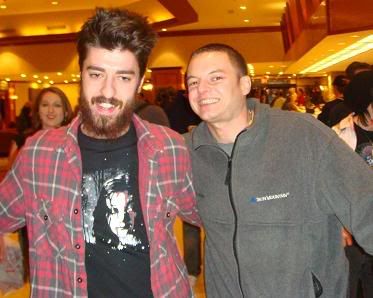 We ended up spending most of that afternoon with Geof and Dan and it was so much fun - drinking Blue Moon's, buying weird sex/food comedies, taking pictures with big breasted women who were promoting weird sex/food comedies, trying to meet Thom Mathews but getting kicked out of the signing room for some kind of medical emergency, and getting Geof to buy his first ever Fright Rag. These are two cool dudes that I am proud to call friends and hopefully Monster Mania buddies in crime for years to come. Can't wait to see you guys at the next one!

By the way, check out Geof's hilarious recap of the weekend over at Enter The Man Cave.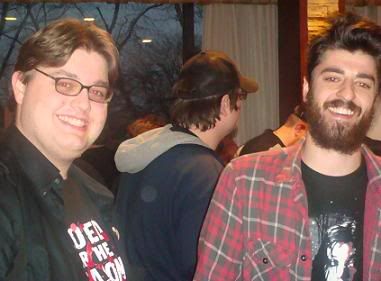 While the four of us were over at the Fright Rags table, I also ran into Bill Adcock (seen above) from Radiation Scarred Reviews, who was also a hell of a cool dude and whose smile could not have been surgically removed from him for the entire weekend. You can check out Bill's recaps of the weekend here, here, and here.

Had an awesome time with all of these guys and gals and it wasn't until midnight on Saturday that Jen and I fully recovered from it all and headed back down into the lobby for some more fun, Rocky Horror and Fright Rags style. More on that later!