Though I spent an exorbitant amount of money at Monster Mania last weekend, I don't really have all that much to show for it in terms of merchandise. It seems most of my money went to food (the customary philly cheeses and breakfast buffets), drinks, and meeting the stars. As usual, however, I did walk out with a bunch of DVD's. DVD's are always my main buy at conventions because all copyright rules seem to be thrown out the window and you can always get bootlegs of older movies that were never released onto DVD as well as newer movies that have yet to be released on DVD, at least in the United States. It's truly a beautiful thing.




First up, I picked up a DVD collection of a couple of episodes from Zombie Hunters : City of the Dead, a zombie show that tracks a few people fighting off zombies in New York City. The reason I bought this is because my brother is friends with the girl that does the makeup for the show and this disc features one of the episodes that she worked on. The Zombie Hunter guys had a table in the dealer room and I told them this, which they got a kick out of. I haven't watched any of it yet, but i'll report back with my thoughts when I do. If you click the link I provided, you can watch a few episodes for free. You can also pick up Season 1, Volume 1 on DVD on Amazon.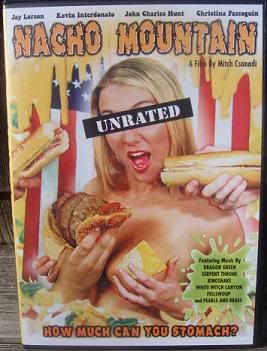 Nacho Mountain was a drunk buy and it proves that if you're trying to sell your movie at a convention, you should bring it into the bar. When I was hanging out with Enter The Man Cave's Geof, the guys who made the movie came in with a heavily tattooed chick with huge fake tits and said they'd sell me a copy for 10 bucks - with a cover like that, how could I resist? Geof couldn't resist either. The movie is about an underground food eating competition that ends with "the final food battle from hell", Nacho Mountain. Sounds interesting enough and i'm looking forward to checking it out. They also threw in a free poster and took a picture of Jen holding up the poster, which surely exists somewhere out there in the world wide web.




Had no idea REC 2 was even available on bootleg DVD, so this was a total shock to see. From what I could tell, there was only one table selling it and I picked up the last copy. I will of course have a review up whenever I get around to watching it. If it's anything like the original REC, I fully intend on loving it.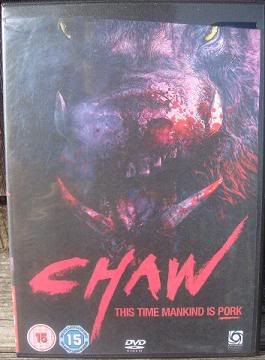 Chaw is a movie I had never heard of until this past weekend, but it's about a massive killer pig and has the tagline, "Wild boar, wild gore", so how could I pass it up? I picked this up from a table run by a guy by the name of Bruce Tinkel, who I always look forward to chatting with at Monster Mania. He's a really cool guy and always recommends me quality movies that he has available at his table - he's the one who turned me onto All The Boys Love Mandy Lane and Babysitter Wanted. He's never afraid to say he didn't really dig a particular movie that he's trying to sell, which I really appreciate. If you're ever looking for a movie that's not out on DVD yet, especially if it just hasn't come to Region 1 yet, drop Bruce a line at horror176@msn.com and he'll probably be able to help you out. You can also check him out on the web at Bruce's Monster Memorabilia, where he has rare posters, books, and magazines for sale.




And finally, I picked up these three DVD's (Rawhead Rex, Slaughterhouse, and Elves) from one of my favorite companies out there and consistently my favorite Monster Mania vendor, The VHS Preservation Society. I've talked about these guys in the past, but just in case you're not aware, they provide perhaps one of the coolest services in the world - they transfer VHS horror flicks that aren't yet out on DVD onto DVD, complete with original VHS cover art and all, thereby allowing all of us horror fans easy and cheap access to a plethora of amazing gems that haven't been given the respect they deserve. VHSPS will also take any VHS tape you have and convert it to DVD for you, so contact them if you're looking for that. I've yet to see any of these three films but i've heard a lot about them over the years, good and bad, and am excited to finally be able to see them.

Other than DVD's and autographs, the only other thing I picked up was this kickass Hostel : Part 2 promotional notebook....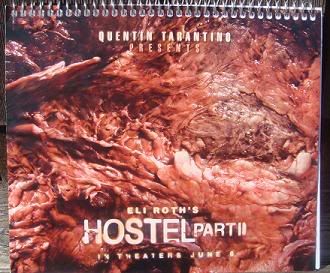 You may remember me posting about this notebook after I saw it on eBay a couple months back and I gotta say, it's even cooler in person. The meaty cover is textured and bumpy and the inside pages are labeled to look like meat packing slips. Got the notebook for a mere five dollars at the table of a woman who is always at Monster Mania with tons of cool, and cheap, promotional goodies. Not sure if she has a website, but I honestly wouldn't even know how to go about searching for it.

There were a bunch of awesome vendors this year that I didn't buy anything from, which I will cover in a future post.