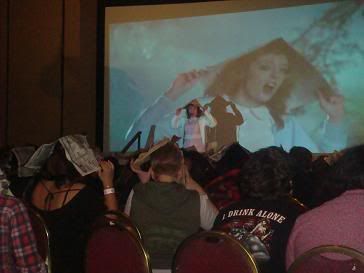 I gotta be honest, I have never seen The Rocky Horror Picture Show in its entirety and quite frankly, i've never in my life had any desire to change that. I'm not into musicals in even the slighest bit and it's just always seemed to me like something I would loathe. I'm not sure if that has changed or not but I gotta say, after last weekend, I have a lot more love and respect for Rocky Horror and it's incredibly whacky cult like fanbase - dare I say the whackiest fanbase in the entire world.

At every Monster Mania for the past couple years, a company called Transylvanian Nipple Productions has put on a midnight showing of Rocky Horror and it is about as far from your typical movie screening as it gets. The TNP actors are all clad in Rocky Horror garb and they, along with the audience, act out the entire movie as it plays behind them on the screen. The actors and actresses tear their clothes off, the audience yells obscenities at the screen like "slut!" and "asshole!", and light sticks are thrown into the audience by the hundreds. It's an absolutely maniacal spectacle that I have attended on a couple different occasions, but only for very brief periods of time. Like I said, i've never seen Rocky Horror, so a few minutes at these shows was about all I could handle and besides, if you attend one and are found out to be one of those sorry folks who has never seen the movie, they're gonna let ya know how they feel about it - by bringing you on stage, bending you over, and having the audience call you a bunch of sluts. That's just something I don't need to deal with.

Well this time around, Jen and I decided to brave it and stay for more of the show than we ever have before and i'm glad we did because it turned out to be a lot of fun, even though we didn't stay for the whole thing. Jen has seen the movie several times and though she probably could have taken an active part in the fun, we were both far too sober to get involved in the audience participation aspect of the show (i'd need at least a half bottle of strong liquor for that). Instead, we sat back and enjoyed watching the madness unfold.

Which brings me to an image I will never forget and one that really changed my whole perception of the love for this movie and for the movie as a whole....

We were sitting behind this biker looking dude - beard, tattoos, you name it - and when the first musical number popped up, this 300 plus pound grown man started picking up chairs around him and hurling them across the room, not because he was angry, but because he wanted to clear himself some dancing room. This motherfucker just wanted to dance and dance is what he did - shaking his ass, wiggling his hips, the whole nine yards. It was absolutely hilarious to witness but like I said, it also made me realize why so many people love Rocky Horror so much. To see this grown man moving in a way that the laws of physics probably shouldn't allow him to move showed me that the movie is a total escape for the diehard fans of it and coming to these shows is a way to totally let loose, leave everything at the door, and become a part of that movie that they love so much. I don't know about you, but I can't think of any other movie out there that gives its fans that opportunity. The way that all of the fans of the film bond by screaming out words and phrases in unison is a truly powerful and inspiring sight to behold and I can guarantee you that nobody sitting in that audience for that two hour period of time was thinking about anything other than having a good goddamn time - and that's what it's all about. While dancing along to a movie about trannys may not be your favored way to let loose, ya gotta respect these folks.

Now i'm not saying i'm gonna don Jen's bloomers and shake my ass along with these crazy fuckers at the next Monster Mania, i'm just saying that I kinda get it now and I definetly do now have an interest in seeing the movie in its entirety. Who knows, I just might become what I never thought i'd become - a member of the cult of Rocky Horror. While I wouldn't count on it, I can now say that I definetly see why one would want to become a member of such a cult, and I have the incredible Transylvanian Nipple Productions and their fellow Rocky Horror followers to thank for that. Keep on dancing, you crazy kids. If a non RHPS fan like myself can have fun at these things, I can only imagine how much of a blast you guys are having.