As always, there were a lot of cool dealers at Monster Mania - both first timers and those who can often be found there - and I wanted to round out the recap of the convention with a couple quick shoutouts to some of those companies/people that i'm a fan of. I encourage you to browse through the links and check them all out!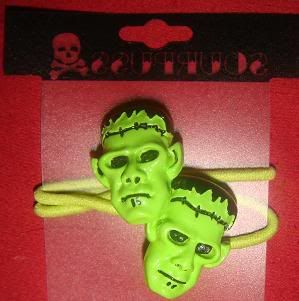 Sourpuss Clothing

I'm always impressed with the clothes and various accessories Sourpuss puts out, both for men and women. Case in point, the above Frankenstein hair ties that Jen picked up at the convention. Cool shit, cool people, Sourpuss rocks and I can't wait to adorn my demon seed in their badass onesies.




Steph Sciullo

Though they don't appear to be available on her website, Steph had some really awesome shruken head/sideshow freak looking wall hangings at the convention and i'm kinda regretting not picking one up. She also had a bunch of different original drawings, the one above of Jesus with his arm cut off that caught Jen's eye and drew her wallet out of her pants. Check out Steph's website, because she's got a whole bunch of cool horror inspired art pieces.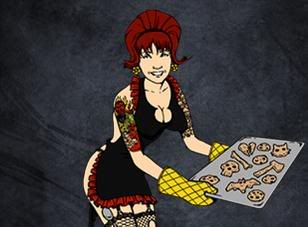 Martha Rotten

Martha Rotten is a first timer to Monster Mania and her booth was definetly a standout for me, even though most of her stuff is tailored to a female audience. Ms. Rotten specializes in various horrific silver goodies, ranging from skull topped salt and pepper shakers to baby arm letter openers, chicken bone earrings to creepy babyheaded rings, all the way to bracelets made of silver castings of the teeth of her ex-boyfriend - truly something totally unique for everyone.




Chip R. Jones

Chip aka Chad R. Jones is a photographer I first became aware of at Monster Mania a few years back. My mom, who loves Monster Mania perhaps as much as I do, immediately fell in love with Chad and his abandoned asylum photos and snatched one up (seen above), which has been hanging in our bathroom ever since. Everytime we go to Monster Mania she hopes that he has a table, but he unfortunately hasn't had one since that first time. I contacted Chip/Chad on his Facebook page around Christmas, asking if I could buy one of his photos as a gift for my mom, and we struck up a bit of a friendship, which lead to us hanging out for a while at MM 14. Chip/Chad is a really cool dude with some really amazing photographs, many of which our family now owns and proudly displays alongside that original one in the bathroom. If you're into abandoned asylum photography, check out Chip/Chad's MySpace page for pictures of his work and drop him a message if you'd like to purchase any. Unfortunately his website is down at the moment, so this is the only way for now to get a hold of his work.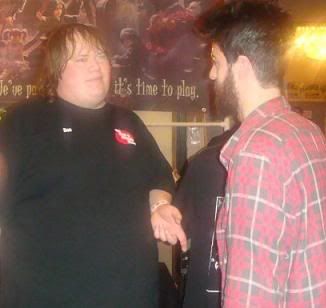 Shawn C. Phillips

You may know Shawn better by his YouTube name Coolduder or by his Don & Murph show name, Don. Shawn is a really cool dude who specializes in talking about all the new DVD's he buys on his YouTube channel and he's actually managed to turn that channel into a career appearing in various low budget horror flicks. I always chat with Shawn a little bit whenever I see him at Monster Mania and he's always really nice, although i'm always pretty drunk and never really remember what we talk about. A movie he appears in called Banshee!!! was just released today on DVD and you can also check out another movie he was in, Assault of the Sasquatch, on demand on both Amazon and various other outlets.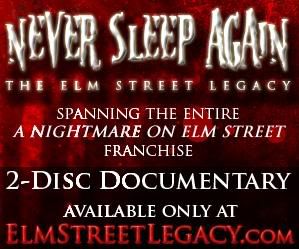 Never Sleep Again : The Elm Street Legacy

Being that it's not out yet and thus I haven't seen it yet, I can't vouch for Never Sleep Again, the upcoming Elm Street documentary that features interviews with almost 100 cast and crew members from the various films in the franchise, but the guys behind it were at the convention and I just wanted to give it a mention because it's something i'm really looking forward to, being that i'm obviously a huge Elm Street fanboy. Stay tuned to the website for details on the release date as well as the date where you can start placing your pre-orders, which will be real soon.




Dave Hagan

And last but certaintly not least, I must give a huge thank you to Dave Hagan, the man behind Monster Mania. Dave, thank you so much for consistently putting on the best horror conventions i've ever attended, for providing me with so many great memories, and for giving me something to look forward to a few times each year. Monster Mania is a complete labor of love for Dave, one that I don't think he ends up profiting too much from, and I could never thank him enough for what he has done and continues to do for all of us horror fans. Thank you Dave, my life is truly better because of you.