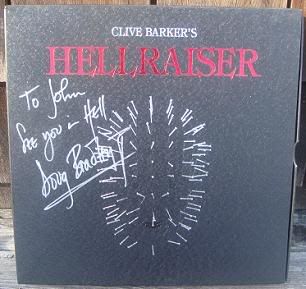 Doug Bradley

I've met Doug Bradley on a couple different occasions and in fact even briefly hung out with him at a Monster Mania several years ago, but I was sent that beautiful Laserdisc Hellraiser set by The Frog Queen a few weeks back and I immediately knew i'd have to meet Pinhead himself again and get it signed by him. The very brief encounter consisted of him saying "Ooohhh, the ole Laserdic" in his beautiful accent, signing it, and moving on to the next guy. It wasn't so much that Bradley was a dick or anything, it was just toward the end of the night and he seemed like he wanted to get out there - totally understandable. I've had enough pleasant experiences with Bradley in the past to know that he's a cool guy, so i'm just happy I got my Laserdisc signed. Thanks once again, Frog Queen!

Meg Foster

When I heard that Meg Foster was gonna be at the convention, I had no idea that she played Evil-Lyn in one of my favorite movies of all time, Masters of the Universe, and in fact I did not realize this until I saw the DVD and photos at her table. Needless to say, I had to meet her. Being that my brother is a huge Masters mark, I got him a signed Evil-Lyn 8x10 and chatted with her briefly, drunkenly telling her that they should get Gwildor at one of these conventions and then a few seconds later wondered aloud, "or did he die?". She didn't seem to know the answer to this question but wished him the best of luck. Sadly, after some research, i've discovered that Gwildor was played by Billy Barty, who died in 2000. Woops. But Meg was really cool and gracious and i'm glad I realized who she was before I got home!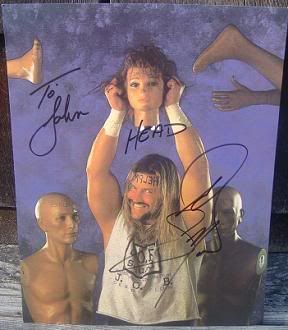 Al Snow

While Geof from Enter The Man Cave had a bit of an unpleasant experience with Al Snow, I had a decent one. Truth be told the only reason I decided to meet him was because I wanted to tell him a story from my childhood that i've never forgotten and that's just what I did. I was at a wrestling convention many years ago and at one point Snow was standing right behind me and I had no idea. I turned around and said, "Oh my god, that's Al Snow!!", and he said, "that's what I say every morning when I look in the mirror." I've always got a kick out of that and I just wanted to tell him that little slice of my childhood. He laughed and thanked me for making him feel old.

By the way, Al Snow has a got new horror film out called The Legacy, which you can check out here.

Greg "The Hammer" Valentine

I gotta say, from my experience, wrestlers are usually dicks, especially when they're at horror conventions. Maybe it's because it's not their world and they don't really belong, but a wrestler at a horror convention is usually not the person you want to meet - a prime example of this being The Iron Sheik passed out asleep at his table at one of these. My encounter with The Hammer was not exactly a pleasant one, but my mission of getting my friends action figure signed for him was accomplished regardless. Much like Busey, Valentine didn't say a word to me or even look at me until I thanked him and forced him to shake my hand. Gotta say though, I can't really blame him - the dude's been sitting at tables and signing autographs for most of his life. I know this because i've seen him all over the east end for the past several decades. What I can blame him for is pulling another Busey by trying to charge an additional 20 bucks for a picture with him. You're a washed up wrestler, sir. Don't forget that.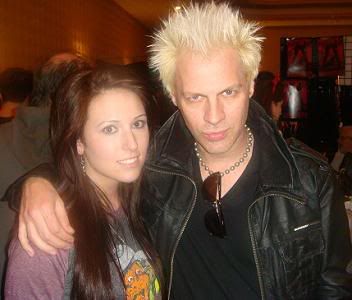 Spider One

This was a brief encounter in the dealer room where a drunken Jen told Spider, the lead singer of Powerman 5000 and brother of Rob Zombie, that she used to have a crush on him and saw him in concert years ago. I'm not sure that he cared, but he was cool enough to take a picture with her, so that made her happy. Seems like a cool enough dude to me. Powerman 5000 were originally slated to perform at the convention, but they canceled a week or so prior.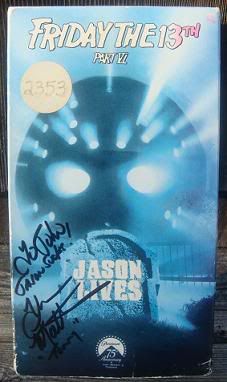 Thom Mathews

Jason does suck Thom, he really does.

Being a huge fan of Return of the Living Dead and Jason Lives, I was incredibly excited when Mathews was added to the guest list. I haven't seen him on screen in a good two decades and the opportunity to meet him in person was too cool. I ate breakfast at a table right next to him on Saturday morning, tried meeting him on Saturday night but the signing room was evacuated for some kind of emergency right before that was able to happen, so I ended up waiting to meet him until right before we left on Sunday (and dropped my last 20 bucks on him). He seemed kinda shy, but really nice, and got a kick out of the fact that I brought an old beat up VHS for him to sign. I was sober and by nature a little bit shy myself (I never go into the celeb rooms until i'm a few beers deep), so I didn't say much but it was awesome seeing Mathews in person after all these years. Wish I had taken a picture with him but again, I was sober.

Beetlejuice/Medicated Pete (Howard Stern Show)

There would be a picture above that headline of the three of us, but these assholes decided to cancel at the very very last minute - as in right about when the show was supposed to begin. Jen and I were really bummed by this because we're huge Stern fans and were really looking forward to meeting them, but oh well. We got it over it pretty quickly when we realized we were upset because we couldn't meet guys named Beetlejuice and Medicated Pete. I think we'll live.