Holy shit is this thing beautiful and well done and what better set of movies to get the royal treatment than Chan-Wook's incredible vengeance trilogy - Sympathy For Mr. Vengeance, Oldboy, and Lady Vengeance. I found this set waiting for me in my mailbox when I arrived home from Monster Mania this past Sunday and it definetly softened the blow of being back to normalcy a bit. I haven't fully delved into the vast special features spread over the 8 discs in the set so I don't have so much an in depth review of it as I do a 'holy shit this thing is awesome and you should buy it'. The back cover of the set proclaims that what is housed inside is "The ultimate and most comprehensive vengeance trilogy box set ever released" - Tartan is not exaggerating in the least. Let's take a look at the innards of this bad boy.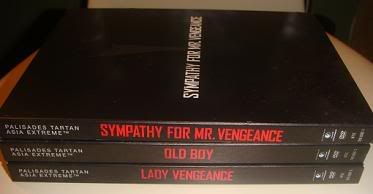 Inside the red outer case (seen up top) is three seperate cases for the three films, with Oldboy and Lady Vengeance comprised of three discs a piece and Sympathy For Mr. Vengeance with two. Each of the films come with an absolutely massive collection of special features, moreso than any of them have ever had in any previous releases. I'm not gonna list all the features, but you can check them out over at Amazon. I must note however that Lady Vengeance comes with a disc that contains the "Fade To Black and White" version of the film - it literally fades from color to white as it progresses and it's absolutely stunning. It would take many hours to get through everything contained on these discs and i'm looking forward to delving more into them.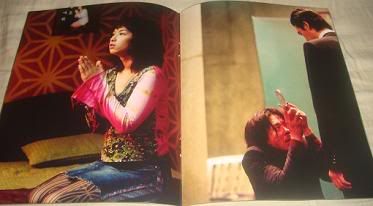 Also included is a 32 page booklet that contains photos and various essays on the films, including one written by Eli Roth about Mr. Vengeance. There's also an interview with the master himself, Park Chan-Wook.

This is one of those rare sets that is so beautiful and so worth the money that it'd almost be a crime not to own. Whether you're a huge fan of Chan-Wook's masterpiece of a trilogy or have never experienced it before, I cannot recommend enough that you make this set a part of your collection. Trust me, if you've never seen the movies before, you will not even in the slightest way ever regret the purchase. For diehard fans of the flicks, there is literally hours of entertainment and information to be found inside this set, which makes it more than worth a double dip. Shit, the thing even smells good, if that sways your decision any.

As for my thoughts on the movies themselves, I think i've made it pretty clear by now that I think Chan-Wook is one of the most brilliant and masterful filmmakers of our time and that Oldboy is in my opinion the best movie ever made. While i'm not as in love with Mr. Vengeance and Lady Vengeance, they are still incredible movies that totally deserve the amazing treatment Palisades Tartan has given them.

The Vengeance Trilogy just came out this Tuesday and you can pick it up on Amazon for $44.99. You can also pre-order the Blu-ray version of the set, which will run you $41.49 and will be released June 15th of this year. Personally, I don't care what format you get it on, just get it.

Thank you Palisades Tartan for putting all the time and love into these movies and for bringing this set to us.