As far as i'm concerned, and as I proclaimed a few months back, the coolest horror collectible that was released last year was Sideshow Collectibles 15" Sam Trick 'r Treat vinyl figure - I can say this with the utmost confidence being that one has sat upon my computer desk for the past couple months and I am continually impressed every time I look at it. It is an absolute thing of beauty and wouldn't ya know it, I just so happen to have two of them. How it worked out was that I bought one for Jen for Halloween last year and then we got a Sideshow gift card a couple months later so we decided, since we loved him so much, that we'd buy another Sam and keep him in the box. Well, we've ultimately decided to part with that mint in box Sam and I decided before I toss him on eBay, i'd offer him up to you guys. Quite frankly, i'd rather him live with one of my awesome readers than some random eBayer who may treat him poorly.

In addition to this little bundle of joy being fully articulated and wearing actual cloth footy pajamas, Sam also comes complete with a removable mask, his trusty sack, and the half eaten pumpkin lollipop he tormented Brian Cox with in the film. If you want to see pictures of him outside the box, and unmasked, check out the post I made upon receiving him. Believe me when I say that this thing is so well made that it's as if you're actually holding Sam in your hands when you pick it up.

The figure is currently backordered on Sideshow's website, as it has been since before it was even made available (we had to wait several months after ordering before we got ours), and it's currently selling for upwards of 120 dollars on eBay. Not only am I gonna undercut that price fcr any one of you guys who wants him, but i'm also gonna throw in a brand new sealed copy of Trick 'r Treat on DVD as well as a promotional lenticular coaster from Comic Con....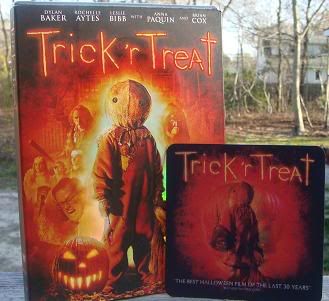 You will also get the 2010 Sideshow Collectibles calendar that came packaged with the figure.

If you want it, you can have the calendar, the coaster, the DVD, and of course Sam for the low cost of $100 - shipping cost to be determined depending on where you live. I can assure that you will not be able to get your hands on this figure at this very moment for cheaper. If you're interested, either leave me a comment here or drop me an e-mail at mortis45@aol.com.