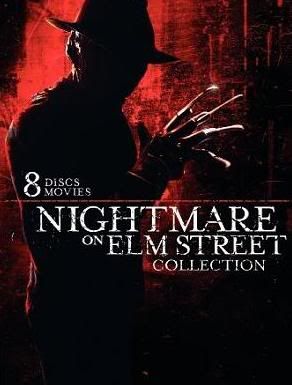 That's the cover of the new Elm Street DVD collection that was just released today and yes, that is Jackie Earle Haley on the cover. While I have absolutely no problems with a new actor being hired to play Freddy in the upcoming remake, I do have a MAJOR problem with a DVD set of the original films not having Robert Englund's Freddy on the cover, when Englund played Freddy in all 8 films in the set. Is it just me or does it almost seem like New Line is trying to make the younger generation forget about the past Elm Street's and just start an entirely new franchise, with Haley in the role? Again, I have nothing wrong with the remake or Haley slapping on the Christmas sweater, but this right here is some fucked up shit and totally shits on not only the original films, but also on Robert Englund himself. I'd love to know what he thinks about this....




Do yourself a favor and pick up the Elm Street Collection that was released back in 1999. It may have those shitty cardboard snap cases, but you get a few pairs of 3D glasses, a nice bonus materials disc, and best of all, the dude who actually played Freddy in the movies spanning the 8 discs is depicted on the cover art. What a novel idea!

By the way, have you seen the latest clear pictures of Haley's Krueger? These images are the most we've ever seen of his new look and you can check them out at one of my favorite horror sites, Horror Bid. Still don't really dig the look so much, especially from certain angles, but i'm nonetheless very excited to see how the remake turned out.