William Castle was the king of the cinema gimmick and always set out to make the fans' theatrical viewings of his movies as fun and interactive as possible. In this installment of Cool Shit on eBay, we have an original relic from those long lost days when going to the movies was a magical experience.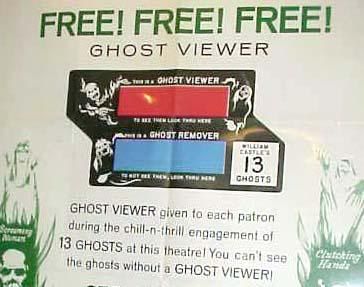 The year was 1960 and the movie was 13 Ghosts. Realizing that some people who went to see the film would be believers in ghosts while others would be skeptics, William Castle decided to capitalize on this by filming parts of the film in "Illusion-O". Whenever a ghost would appear on screen, the screen would take on a blue-ish tone. This was the point when you would put on your 'Ghost Viewer', which you were handed when you bought your ticket. This 'Ghost Viewer' had a red lens and a blue lens, much like 3D glasses, and depending on which one you looked through, you would either see the ghosts on screen or, if you were too scared or didn't believe in ghosts, you would not see them at all. How it worked was that the ghosts were tinted a blue color and superimposed over the black and white film, thus allowing them to appear or disappear depending on what color lens you looked through. The red filter brought the ghosts to life while the blue filter filtered them out of the picture. Of course, if you used neither filter and just watched the film with your naked eye, the ghosts would be visible.

Currently up for auction from eBay seller 'ausdavo', with a starting bid of $9.99, is a pair of these 'Ghost Viewers'!




This is an original pair from the 60's, not one of the pairs that was packaged with a more recent DVD release of 13 Ghosts. To the best of my knowledge, the viewers were only made available with that DVD for a limited time and are sadly no longer included with more recent issues of that disc.

This is currently the only pair of 'Ghost Viewers' up for grabs on eBay so if you want to get your hands on this piece of horror history, place your bids!

If you want to read more about the cinema gimmicks of William Castle, check out a post I made on that very subject way back in 2008. Included in that post is a video of Castle himself explaining the magic of 'Illusion-O"!