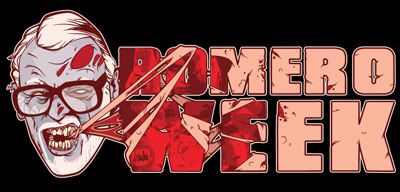 One of my awesome readers, Joe O' Connor, sent me some pictures of his Romero collection the other day and among those pictures was a shot of his Dawn of the Dead tattoo, which I just had to share with you guys. Check it out and here's what Joe had to say about his badass ink!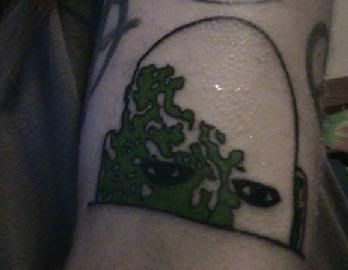 I love showing expression for things i'm a fan of, whether it be t-shirts (which are plenty, including a Dawn of the Dead & a Day of the Dead shirt), pins (which i have one for Day), or posters(which i have for Dawn). If I had the money, i'd have my arms sleeved in tattoos, especially film tattoos. I have 5 tattoos, three of which are dedicated to film, albeit one of the "films" is my production company's logo but with vampire fangs, the other two are straight up film ink - a Rocky Horror tattoo & a Dawn of the Dead tattoo. I got it in March of 2009, by my favorite tattooist and fellow Romero fan, Dennis La Rosa of Liquid Courage Tattoo in Omaha Nebraska. It took about an hour and a half (in between us watching Kingpin), and cost about $120. I chose green as it's my favorite color. I love my tattoo but it is not yet complete, as i'm planning on getting Night & Day as companion pieces.

Joe can be found over at Oduction Productions Midnight Time Warp and on his YouTube channel, where he has a series of videos documenting his journey to some of the filming locations of Dawn of the Dead.

Thanks, Joe!

**UPDATE**

More reader Romero tattoos have just come my way! Thanks to Chris Bennett for sending these over!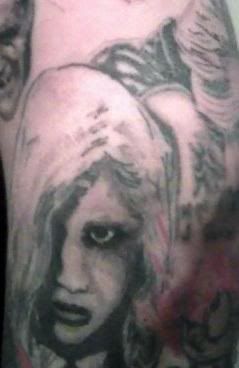 Karen Cooper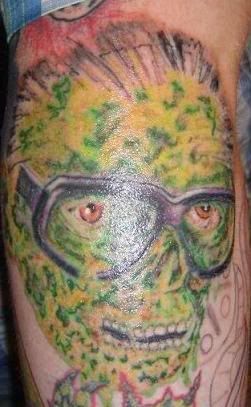 Zombified Romero!