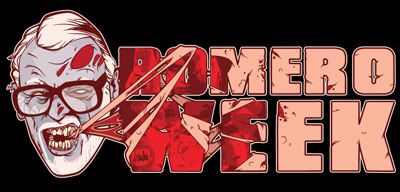 Yep, you read right! I promised to deliver the goods during Romero Week and I really intend on finishing things off with a bang this Memorial Day Weekend! Thanks to the fine folks behind the upcoming film Night of the Living Dead : Reanimated, we've got ourselves yet another incredible giveaway! But first, what exactly is Night of the Living Dead : Reanimated? Read on for all the details!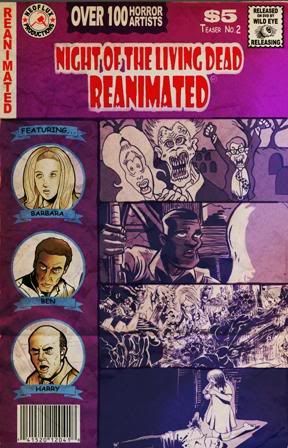 Night of the Living Dead: Reanimated is a mass collaborative artistic re-envisioning of George A. Romero's 1968 cult classic, Night of the Living Dead.

International artists and animators were invited to select scenes from the film and reinvent them through their artwork.

Open to all styles, media and processes the results ran the gamut with scenes created in everything from puppet theater to CGI, hand drawn animation to flash, and oil paintings to tattoos.

This cacophony of works was organized and curated across the original film's time line in order to create a completely original video track made entirely out of art.

The result of this project is an experimental take on the cult classic. What it forfeits in visual continuity, it gains in variety.

If you are looking for a tried and true horror film, then go see George A. Romero's Night of the Living Dead.

If you are looking for a film that approaches the horror genres from an entirely new direction, then prepare yourself for the mindbending artistry that is Night of the Living Dead: Reanimated.

Talk about taking advantage of the fact that the film is in the public domain and really doing something awesome and original with it, rather than just releasing it on DVD for the 100th time, eh? I have been incredibly excited about this project for a long time now and that is why I am so excited and honored that the people behind the film were awesome enough to supply a few goodies for a giveaway.

So what's up for grabs? I think you're gonna be pleased! I've got two different posters to giveaway (#1 & #2) and even one bootleg copy of the DVD, which is not officially out until July 27th! These goodies will go out to two different winners ; one will receive the DVD and poster, and the other will receive a poster. If this sounds good to you and you'd like to see the film before most people get to, here's what ya gotta do!

Leave a comment below with your e-mail address and which poster, #1 or #2, you want if you win. That is all.

Giveaway only runs through the end of the week, so enter now!! Good luck!