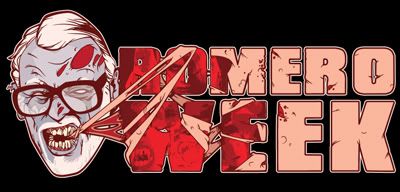 As part of Romero Week, i'm naturally gonna be watching a handful of Romero flicks this week - some of which I will post my thoughts on. I figured i'd pop on here tonight and give the list of films i'm going to be watching, so you guys can follow along if you so desire. Being that i've seen all of the Dead films several times over, i'm probably not going to be revisiting them this week - same goes for Creepshow. The way I see it, pretty much every aspect of those movies has already been discussed a thousand times over in a thousand different places, so i'm gonna try and focus more on Romero's other flicks this week - the ones that are talked about a little bit less. But don't worry, the Dead films will be covered in a couple different posts throughout the week. Ya certaintly can't leave them out entirely, being that they're such an integral part of Romero's career.

So if ya wanna follow along and watch with me, here's the movies i'll be watching this week. The ones with asterixes next to them are the ones I will be viewing for the very first time. If you're gonna be indulging in some Romero this week to celebrate this special occasion with me, leave a comment and let me know!

Bruiser*

The Crazies

The Dark Half*

Knightriders

Martin

Monkey Shines

Season of the Witch*

Survival of the Dead*

There's Always Vanilla*

Two Evil Eyes

Just wanna say before I go that Romero Week has become a lot bigger than I originally expected it to become, thanks in large part to several incredible people. There will be a plethora of giveaways and some really really awesome stuff that I think you guys will love. See ya tommorow!