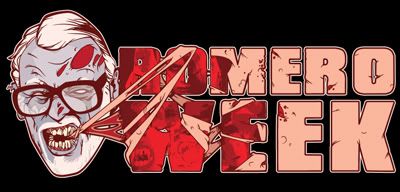 Thanks to the incredibly generous and amazing folks over at Fright Rags (the greatest horror shirt company in the world), Romero Week kicks off with a serious bang today. For the first of several giveaways that will be held throughout the week, Fright Rags has donated one of my personal favorite shirts of theirs - their Night of the Living Dead Artist Series tee. Only 200 of these babies exist in the entire world - how's that for kicking things off with a bang! Believe me, this is a sign of things to come this week!




This shirt was only made available through their website for a very limited period of time and has been gone off the site for quite some time now. In fact, this here giveaway is currently the only way you can get your hands on it if you missed out during its initial run. The shirt up for grabs is a men's size medium and all you have to do to throw your name into the running is leave a comment below with your name, e-mail address, and your personal (and honest!) answer to the following question :

If your loved one turned into a zombie, ala NOTLD's trowel wielding Karen Cooper, what would you do?

This giveaway, as well as all giveaways being held during Romero Week, will run throughout the entire week - all entries must be received by this Sunday, May 30th, at 11:59pm. Contest is open to everyone. Good luck and stay tuned for several more giveaways and lots more Romero fun this week!