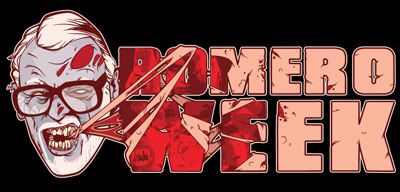 Today marks not only Memorial Day, but also the end of Romero Week here on Freddy In Space. Six awesome giveaways, several incredible posts from some of the best of the best in the horror blogging community, and even some involvement from a few stars who have worked with Mr. Romero - i'd say this past week was a huge success. Just wanted to pop on here today and give a thank you to all who were involved in making Romero Week so successful. Without all these guys and gals, it would have never been possible.

Benjamin Scrivens - Fright Rags

Mike Schneider - Night of the Living Dead : Reanimated

Wild Eye Releasing

Bill Adcock - Radiation-Scarred Reviews

Zach Shildwachter - Z For Zombies

Brittney-Jade Colangelo - Day of the Woman

Geofree Capodanno - Enter The Man Cave

Nik Holmes

Lori Cardille

Jim Krut aka Helicopter Zombie

John Amplas

Ella The Monkey

Rondal Scott - Strange Kids Club

Joe O' Connor - Oduction Productions

Chris Bennett

The Blood Sprayer

And perhaps most of all, Kristy Jett. I know you hate me saying this Kristy, but this past week truly would not have been possible without you. Thank you. You can find Kristy on the web at her blog The Person You Benefit From Knowing as well as on Blood Sprayer, Bloody Disgusting, Fear of the Dark, Wreckhouse Magazine, and of course Fright Rags. Mark my words - you haven't seen the last of Kristy Jett on Freddy In Space!

Now about those giveaways....

I know there were a lot of them this past week and I realize you may not have been able to keep up and enter all of them before the deadline (which was last night at 11:59pm). As my little Memorial Day gift to you guys, i'm gonna post all the links to all the Romero Week giveaways below and I will also be extending the deadline to this Friday, June 4th. As long as you get your entries in by that date, all will be well! Good luck!

Win Fright Rags' Limited Edition Night of the Living Dead Artist Series Shirt!

Win Fright Rags' Vintage Night of the Living Dead German Poster Art Shirt! *Blood Sprayer Exclusive*

Win Fright Rags' Creepshow 'Father's Day" Zipper Hoodie!

Win Night of the Living Dead : Reanimated on DVD, Plus 1 of 2 Posters!

Win an 8x10 Signed By Jim Krut - Dawn of the Dead's Helicopter Zombie!

Win an 8x10 Signed By Lori Cardille - Day of the Dead's Sarah!

Goodbye from Romero Week!