The other day I made a post over at The Blood Sprayer about Garbage Pail Kids (if you're not aware, the original Kids are back - read the post for all the details!) and while I was searching through my dad's old card collection as part of my research for the post, I came upon a series of cards called Dinosaurs Attack!, which I just had to share with you guys. They're some of the goriest most badass cards i've ever seen and it's been well over a decade since the last time I laid my eyes on them. My dad used to be hardcore into collecting cards and he amassed over the years quite the collection of both open and sealed packs, which he fortunately never sold. It was thanks to this very collection that I saw my first pair of tits (Benchwarmers, anyone?!) and it may have even been my first inroduction to the world of horror - I remember sifting through Fright Flicks cards depicting the likes of Pumpkinhead and Predator, years before I ever actually saw those movies. Needless to say, I reaped the benefits of my dad's card habit.

But anyway, the main gist of the Dinosaurs Attack! series was that a scientist developed a "Time Scanner" which was supposed to give him the ability to view any era of Earth's past that he wanted. The experiment went awry and flesh hungry dinosaurs came to earth, devouring everything in their path. God damn, I love the 80's.

Here's just a few of my favorites!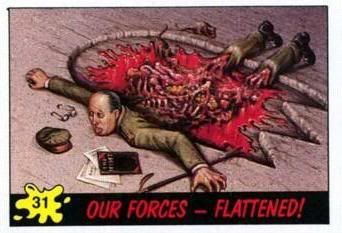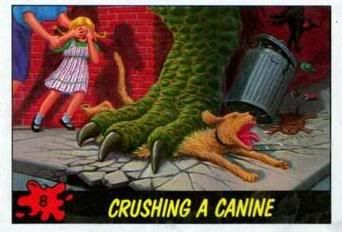 The back of each card tells the continuing story of this experiment gone wrong, through the use of fake newspaper clippings ('Police Precinct Assault!') and things of that nature.




Eventually, things end happy for the earthlings when the dinosaurs are ripped apart, back to their rightful time period.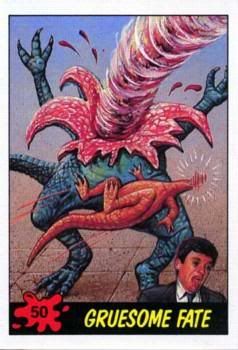 Sounds like these cards have all the makings for a movie adaptation, eh? Well, through a little digging, I found out that Tim Burton had at one time considered making a Dinosaurs Attack! movie, but eventually ending up making one based on the cards that they were inspired by, Mars Attacks. Story goes that after seeing Jurassic Park, Burton ditched the idea. Bummer, but at least we'll always have the cards to enjoy!

If you want to learn more about Dinosaurs Attack! and view all the card fronts and backs, head over to Bob's Dinosaurs Attack! Homepage.