A couple months back, Jen drove past a new burger joint in our area (about 40 minutes from home) that she said had a lit up Frankenstein's Monster in the window. She said it was called Frank-N-Burger and for the past couple months, we've both been dying to go. Quite honestly, the only thing that kept me from going the minute she told me of this news was that I figured the name and window decoration were the only ties this place was gonna have to the world of horror. In other words, I felt like it was probably run by some dude who didn't even care for Frankenstein or horror movies, he just came up with a catchy name for a burger and hot dog joint and ran with it. Well we finally got around to going last weekend and i'm happy to say that my initial inkling was totally wrong. This isn't a place that is just using the Frankenstein name to cash in, it's a place that is clearly run by a dude who loves horror movies, and it shows - on the menu, the tables, the walls, and even the bathroom door. Check out some cell phone pictures I snapped of the coolest burger joint on earth!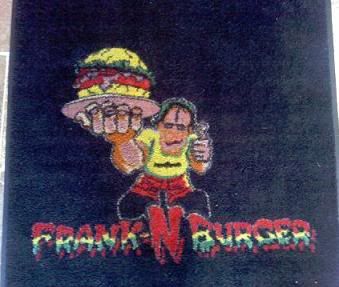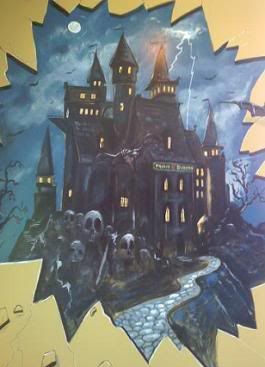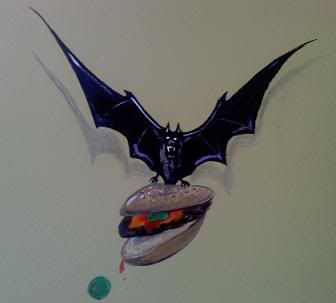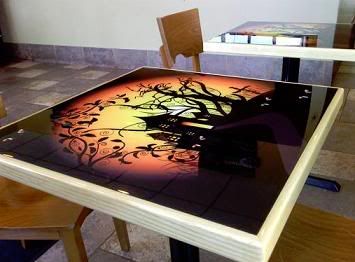 I don't know if you'll be able to read this, but here's the menu, which includes such treats as the Wolf Dog, the Bat Burger, the Zombie Corn Dog, and the Headless Rider!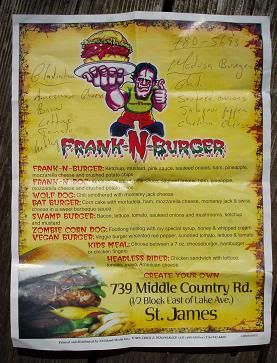 Quite frankly, with a name, a menu, and decorations like these, I really don't even care if the food is the best or not, i'd frequent the place anyway. Fortunately, however, the food is really good. I picked up the titular Frank-N-Burger, which is loaded with unique ingredients such as ham and pineapple, while Jen opted for the Swamp Burger, which is stacked with bacon, lettuce, tomato, sauteed onions, ketchup, and mustard. The burgers are absolutely massive and from what I could tell, the hot dogs are a good foot long, at least. Aside from the name and decor, what sets this place apart from other burger and frank joints out there are the oddball ingredients - the Zombie Corn Dog is topped with honey and whipped cream! So in addition to the place being awesome, the food is delicious and totally different from the food you can get anywhere else - what more can ya ask for?!

If you're ever in the Long Island area, Frank-N-Burger is located on 739 Middle Country Road in St. James, New York. Believe me, it's totally worth a trek out here and i'd love to have a burger with ya! Keep an eye on the website, which should be up soon.

I plan on doing a more proper piece on the place, with better pictures and an interview with the owner, Mauricio (who I spoke with briefly), which will either be posted on here in the future or in one of the local papers around here, if possible. Needless to say, you haven't heard the last of Frank-N-Burger!