Comic books are an incredible resource for horror fans, delivering tales that likely would never be able to make their way onto the big screen. Picking up where movies leave off, the world of comic books seems, as i'm quickly discovering, to be the place to go for what we really want to see. Case in point, Freddy vs Jason vs Ash, an epic battle between three of the biggest names in the world of horror, a battle that has been merely hinted at through subtle references in various films in the three respective franchises that the three men reign supreme. It's an encounter that we will likely never see on screen, at least in any of our lifetimes. This graphic novel, based on a screenplay that never came to fruition, and containing all six comic books in the series, brings us that battle.

Picking up right where Freddy vs Jason left off, Freddy vs Jason vs Ash is narrated by our hero, Ash, and is essentially a three way battle for ownership over the Necronomicon. Freddy wants it, even going so far as to manipulate Jason into getting it for him, and Ash stands in both of their ways, the only thing between ultimate evil and world domination. It's good vs evil vs evil in a deathmatch for horror supremacy.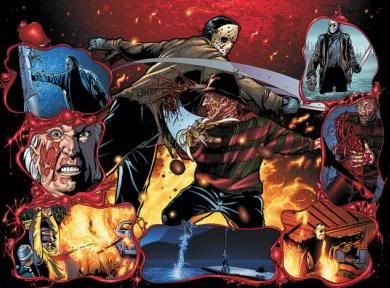 Opening with a serious bang, in a brilliant move that won me over right off the bat, Freddy vs Jason vs Ash recreates the end of Freddy vs Jason, in comic book form, and then even goes on to show us the fates of Lori and Will, the two sole survivors of 2003's big screen battle. From there, we head over to the newly built Crystal Lake S-Mart, and the bloody battle over the Book of the Dead begins, but not before Freddy figures out a way to emerge from the mind of Jason and cease to be merely a decapitated head alongside Mrs. Voorhees' on the mantle.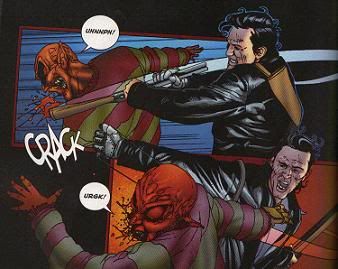 Proving that the kickass opening was a hint at things to come, Freddy vs Jason vs Ash remains an incredible piece of work, staying very true to the franchise originals. Full of clever little winks and nods to the Friday, Elm Street, and Evil Dead franchises, this comic series was clearly made by diehard horror fans for the diehard horror fan who has seen all three franchises in full, and numerous times at that. For example, victims from Voorhees past, including Shelly and even the dead fuck himself, Crispin Glover, make brief returns and Ash utters a line about how stupid it is for Lori and Will to go back to a "cabin in the woods when they know a bunch of possessed horrors are waiting to swallow their souls" - a question we've all been wondering over the years in regards to Ash. It's little touches like these that let you know you're in good hands and make you feel that you're still in the same universes the movies inhabited. It truly feels like a continuation of all the films that would go perfect alongside a marathon of each and every one of them. What more can you ask for?

Freddy vs Jason vs Ash is chock full of great lines - "I'll send your shriveled ass back to "neverland" with the rest of you limp wristed glove wearing pansies", and a plethora of other dialogue that sounds to a tee like lines Bruce Campbell's Ash would actually spout - and incredible imagery - Freddy fucking Pamela Voorhees and reading stories to a young Jason, the jump roping Elm Street girls turning into Kandarian demons, and Ash having a dream sequence wherein his hand becomes possessed, yet again, and spawns Freddy's blades...to name just a few memorable moments. As you'd want from such a tale, the comic is ultra gory, with graphic depictions of beheadings and bodies being literally ripped limb from limb, in a manner that would make Victor Crowley proud.




What i'm getting at here is that Freddy vs Jason vs Ash is totally fucking awesome and is an absolute must read for all serious horror fans. Sure it gets a little repetitive at times, rehashing the Freddy manipulating Jason plotline from Freddy vs Jason and having Ash come up with way too many different ways to insult Freddy, but it pretty much contains all of the things you'd want it to contain...and then some. With over 130 pages and a behind the scenes look at the creation of the comic series, this is one graphic novel that's well worth the price tag of upwards of around the $20 mark (it's only $12.23 + shipping at Amazon, but it's temporarily out of stock). Bottom line is ; if it were a movie, as it was originally supposed to be, it would probably be the greatest horror movie ever made. As it stands, as a graphic novel, it's one of the most enjoyable i've ever read.

I just can't get over how awesome it is that comic books let us see these worlds and scenarios that we could only dream of seeing on film. If anyone has any other horror comics to recommend, i'm all ears, as my interest in this world that i've yet to fully delve into has now been heavily peaked. Freddy vs Jason vs Ash was followed up by a six issue sequel, titled Nightmare Warriors, which will probably be my next read.