I'm not really all that much of an autograph seeker, but going to horror conventions over the years has given me a pretty sizeable collection of signed 8x10's, posters and action figures. I thought it might be fun to show off my collection and share some stories along the way. Being that i've got a quite few, this will be an ongoing multi part post - in other words, i'll be milking this shit for several weeks. Here's part 1!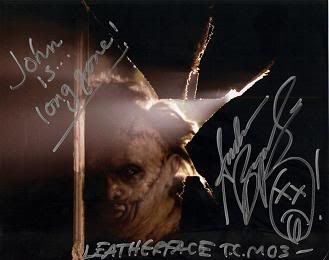 Andrew Bryniarski

"John is...long gone!"

I've read several reports of Bryniarski being a dick at conventions, but I didn't get that treatment. He was certaintly a bit off the wall - drinking a beer at his table and generally acting nutty - but he was nice to me. Taking one look at the man, it's not hard to see how he got the job playing one of the scariest and most imposing horror villains of all time!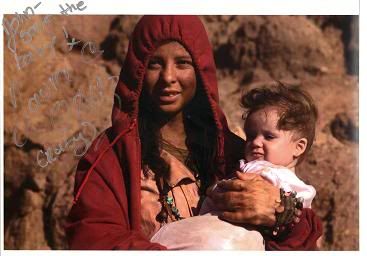 Laura Ortiz

"John - Save the baby!"

Laura Ortiz is one of the nicest people out there, a fact that was 100% confirmed for me when she agreed to a little interview on Freddy In Space, a year or so after I met her.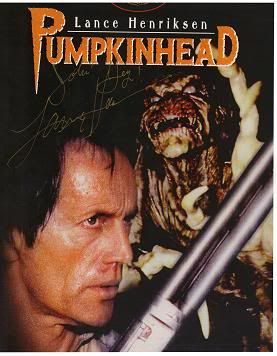 Lance Henriksen

"John, Hey!"

I don't know if I was just too intimidated by his badassery and blacked out or what happened, but I really don't remember much about my meeting with Henriksen other than the fact that he was really really nice and chatted with me for a couple minutes. These little mini blackouts tend to occur when I meet people i'm a huge fan of...




Angela Bettis

"To John, You have all the best PARTS!!"

This is one of my most prized possessions, being that I have a hardcore love for both May and Angela Bettis. I fondly remember sitting up in my hotel room pounding beers in the attempt to work up the liquid courage to go down and meet her. Apparently the guy taking our picture was staring at her boobs and Angela caught him on it and asked me if her nipples were hard or something to that effect. Yes, May asked me if her nipples were hard. And yes, she told me I have all the best parts. I think I can die a happy man now. Most men have a thing for Pam Anderson or Megan Fox, but Angela Bettis is my number one celebrity crush.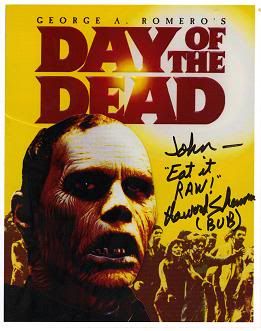 Howard Sherman

"John - Eat it RAW!"

After Sherman signed my autograph, I walked away from his table, totally forgetting to pay. I could've gotten away with it but I would never want to short Bub some well deserved money, so I went back to his table when I realized what I had done, explained myself, and threw an extra five bucks into the pot. It seemed like a nice gesture in my mind but I gotta be honest, I felt a little douchey when I actually did it. I feel like he got the impression that I was implying that he was broke and that I was helping him out. Oh well, he was a cool dude and i'm sure he dealt with much douchier people that weekend than I!

STAY TUNED FOR PART 2!