Earlier this month, Kristy Jett and myself debuted a new column for The Blood Sprayer, called Little Shops of Horrors - naturally, to pimp independent horror shops that we dig. In the first installment, written by yours truly, I profiled a girl by the name of Beckie Forcier, who turns innocent My Little Ponies into creations straight out of the fiery depths of hell. This post led to me striking up a little Facebook friendship with Beckie and as a thank you for me writing up the piece, and hopefully getting her some sales, she was awesome enough to create and send me my very own Little Horror Pony, which arrived today on my doorstep, just in time for my birthday. I present to you, the newest member of my family, My Little Freddy!!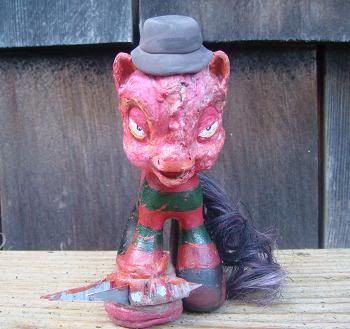 Awwww, isn't he cute? Thank you so much Beckie, you rock and I will cherish and love him forever!

Be sure to head over to Beckie's Etsy shop, My Little Horror Ponies, and check out some of her creations, which include the likes of Ash, Pinhead, Jason, and Captain Spaulding!