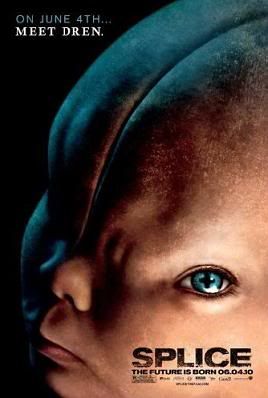 I'm about a week too late on this one, but I finally got around to seeing Splice last night and i'm glad I did, because I quite enjoyed it - for the most part. It's a solid, original, topical, and at times even adorable sci-fi flick that never takes itself too seriously, even when dealing with incredibly serious hot button issues such as abortion and the use of science to 'play God'. Quite frankly, it's this sense of humor that director Vincenzo Natali infuses into the film that makes it all work, rather than come off as silly or preachy. It's the kind of film that leaves you with a lot to ponder and a lot to talk about with those who have also experienced it, which is as far as i'm concerned the best type of genre film. Couple this with incredible FX and good acting from a more than competent cast, and we've got on our hands one of the better original genre flicks we've seen in a while, one that doesn't rely on jump scares and/or gore to get under your skin.

As the title of this post suggests, Splice does unfortunately lose a little bit of its steam in the last 20 or so minutes of runtime. What remains an intelligent, original, sexy, and psychological movie for a good hour and 15 minutes devolves into a glorified SyFy original picture towards the end and finishes with a generic and contrived ending the likes of which we've all seen a few dozen times before. Somewhere along the lines the whole tone of the movie changes and it appears that Natali wasn't sure how to end the story, so he just aped from similar movies of the past. The movie ends up going to pretty much all of the places I was glad it didn't appear to be going throughout and ends up taking that easy route that I was proud that it didn't appear to be taking. It's unfortunate but for me, it doesn't entirely tarnish all the good that came before it, which I thoroughly enjoyed. For this, I am able to forgive the seriously flawed latter half of the proceedings.

All in all, Splice is a delightfully twisted study on parenthood that pushes boundaries, gets you thinking, grosses you out and makes you laugh - what more can ya ask for in a sci-fi/horror hybrid? Despite it's generic and uninspired turn at the end that keeps it a tad bit shy of greatness, Splice remains a really solid effort that I highly recommend.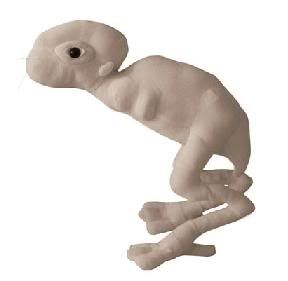 By the way, if anyone manages to get their hands on one of these baby Dren plush dolls, which are apparently limited to only a few hundred pieces and were mostly given to cast/crew and used for giveaways, I will happily take it off your hands if the price is right. I must have it!