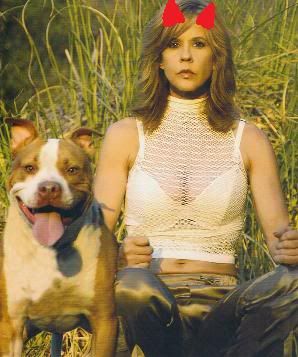 Last week, I made a post on an interesting little article I found in tabloid magazine The Globe, wherein a former associate of Linda Blair's made claims that Blair treated him like crap, owes him a ton of money, showers twice a week, and has an incredibly filthy home - among other allegations. The man, Jeramy Cleghorn, says he worked and lived at her animal shelter for a year and "if people knew what Linda Blair was really like, their heads would spin too." Putting on my little investigate reporter cap, I decided to track Mr. Cleghorn down on Facebook and see if I could find out some more information as well as attempt to determine whether or not he was in fact telling the truth. I ended up chatting back and forth with Cleghorn for nearly two hours this past weekend and he shared with me some incredibly juicy details that even The Globe did not uncover or report on.

Though I obviously cannot 100% say whether or not these allegations against the horror icon are true, I will say that Cleghorn sent me a brief video walkthrough that he filmed of Blair's home, including her bedroom, which backs up some of his claims. Due to obvious breach of privacy issues, I cannot share this video with you guys, but believe me when I say that it proves that not only did Cleghorn work for Blair and live at her home for a period of time, but that her home is in fact a complete pigsty, as he reported in the paper. Whether or not you believe Cleghorn's other claims is entirely up to you, though he seemed nothing but genuine and honest when I chatted with him.

Here's what I uncovered.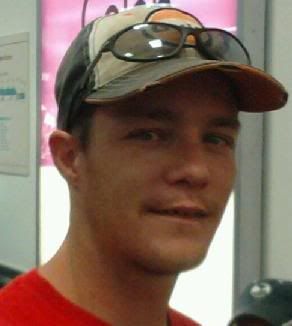 According to Cleghorn (seen above), one of Blair's volunteers posted an ad on Craigslist in December 2008, offering $10 an hour to work at the shelter, which he responded to. He told me that when he took the job, he "didn't even know who Linda Blair was" and that he had seen The Exorcist several years back, but "wasn't really impressed." When I asked him if he then went back and re-watched the movie upon getting hired for the job and realizing who the boss was or if he was totally unphased by his new boss' celebrity status, he had this to say - "I've met many celebrities in my life, been on T.V. myself a few times actually (he appeared in the background of a news report involving a man terrorizing a Burger King and was an extra on the set of Nash Bridges). It didn't really matter to me, my concern was working, getting paid, and taking care of my family - which the "job" failed to do."

I wondered what Jeramy's first encounter with Blair was like - if she was mean right off the bat or if she started off pleasant....

"Well my first day was busy - I was brought on because a winter storm was going to hit the area. The first time I remember talking to her was that night, she was talking about "her movie", and was aghast when I said I didn't know who she was. "I'M THE EXORCIST!" - her exact words."

In addition to the normal duties one would expect when taking on such a job - "Fed dogs, walked dogs, scooped the poop..." - Cleghorn revealed that Blair also used him as a personal assistant of sorts, having him fix her car and RV and even using him to scan and touch up photos for her various autograph appearances. Jeramy shared with me some of these photographs, which he says are "everywhere in her house, the mess that it is."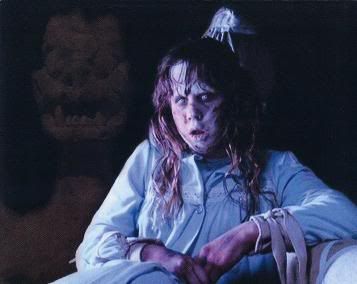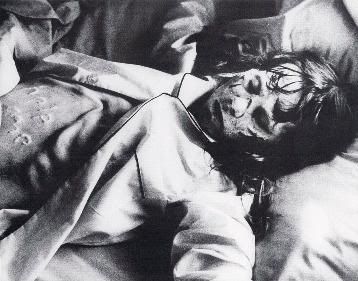 So was Blair ever nice to her employees? Jeramy says she had her moments...

"That's a touchy subject. If I was busting my ass getting things done for her, she was nice. When it came pay time or trying to get time to take care of my family, she was a real bitch. She's a decent person as long as she's getting what she wants, I guess. Try to find Helen Darras (Butch Patrick's ex fling) - she has an interesting story on how Linda tried to extort her for several thousand dollars AFTER she donated thousands and both a washer/dryer set that cost over a grand alone".

Things got even juicier when I asked Jeramy to tell me his most shocking encounter with The Exorcist's demonic child star...

"How most shocking?? Catching her in her skivvies? ("One time a dogfight broke out in her bedroom when she was taking her bi-weekly shower. Marvin (another co-worker) and I ran in to break it up at the same time she came out of the shower in nothing but a pink thong and red bra"). Scaring the dookie out of her? Having to deal with a stalker sending threatening email's to her? Watching one of her dogs get shot up by shotgun? Never a dull moment at Linda Blair Worldheart Foundation."

The interview then took a Howard Stern-esque turn, with Jeramy revealing that the thong Blair was wearing at the time of the "catching her in her skivvies" incident was emblazoned with her company's logo, as all of her undergarments are, and that "she don't look like she did in 1982 ..... She has NO figure, looks like Skelator or the Cryptkeeper or something." He then sent me a picture he took during his stay at the Blair residence, wherein he is wearing what he claims to be Blair's thong ("straight out of the wash!") as an eye patch. I couldn't make this stuff up, folks....




So, is Mr. Cleghorn going to sue Linda Blair for the almost $20,000 - almost double what's reported in the paper - that he claims she owes him?

"I've been looking into it, but the problem with that is she's dodging the IRS, refused to report my wages, and denies that I was an employee. She claims I was only a volunteer, but if so, why did she write me checks?? I haven't found an attorney that is willing to take the case, and I'm also trying to find an attorney to sue her for job-related injuries. I've been bit twice bad, and I've had three teeth broken out. The teeth thing is my biggest issue, but as I said, she didn't have insurance on the kennel (BIG NO-NO!)...."

"Her father died within three days of The Globe articles release, and with that, she has a trust fund she can access now, so there's more of a chance for me to get compensated now she has those funds, if she hasn't blown it all already. She's horrible managing her income."

Pretty interesting stuff, eh? So what do you make of all of it - is Jeramy Cleghorn telling the truth? Sure as hell seems like it to me....

Thank you Jeramy for taking the time to answer my questions and share your incredible stories. I hope you someday get the money that is rightfully owed to you. And for the sake of your future employers, I hope this wearing your boss' underwear on your head business doesn't become a trend with you!