A couple Jen and I are friends with, Dan and Andrea, gave me a birthday gift this morning that has rendered me completely speechless. So rather than speak, I will just show you a bunch of pictures of the greatest birthday gift I have ever received.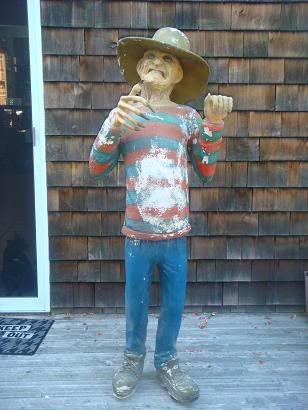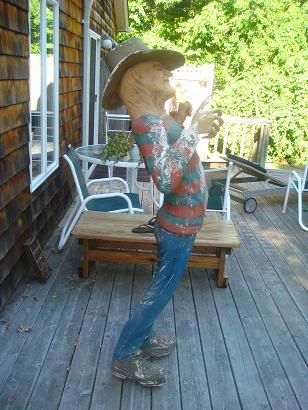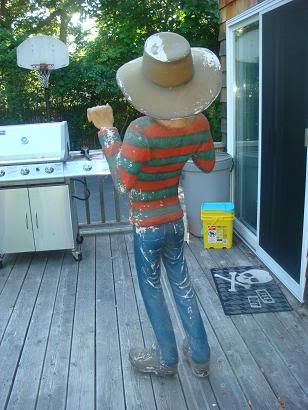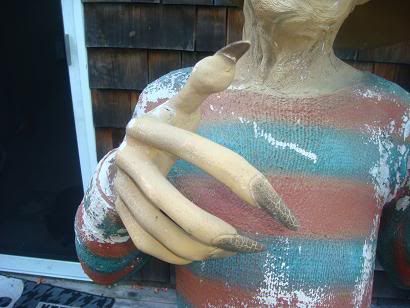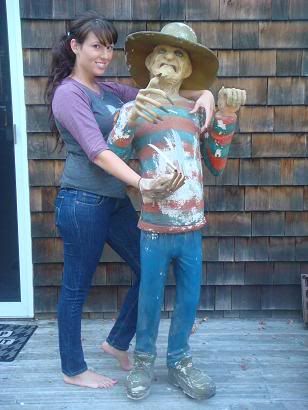 Story goes that they saw this 5 1/2 foot plaster piece in Brooklyn a few years back, stopped and got out of their car to check it out, and the Russian dude who was in possession of it told them if they wanted it, they could take it. Being horror fans, they took it and kept it in their house for the past couple years and they decided to hand it down to me for my birthday this year - thereby cementing themselves as the best gift givers the world over. Dan and Andrea, I could never possibly thank you enough. Needless to say, I owe you guys big time and I fully intend on repaying you in some way for this incredibly generous gift.

My family has been friends with Dan's family for as long as I can remember and my brother and I used to hang out with him all the time. Though we've always lived right down the road from one another, we lost touch for many years and just recently started talking again - ironically, shortly before he and his family moved a little further away from us. A couple months back he told me that he had babysat for my brother and I a long long time ago and snuck over a copy of Child's Play 3, which we all watched together - it's quite possible that Dan is the one who got me into the world of horror. So again, thank you Dan!




Dan married Andrea a few years back and they've lived happily ever after since. Andrea now teaches Jen yoga and they've become good friends through it, while I can be frequently found at local watering holes watching Dan's band, Easy Money, rock the house. Small world, eh?

So is this thing the holy grail of Freddy collectibles or what? As far as i'm aware, it's a totally one of a kind piece and although i'd love to know its origins, I kinda like it being a mystery. I also find that the blue jeans, laced up sneakers, and witch fingered hand - rather than the typical glove - all add to its charm and make it one of the coolest things I have ever laid my eyes on. We may eventually take it to a shop in our area and get him restored and of course, if we do, i'll post pictures of his fresh new digs. Though quite frankly, I kinda love him all beaten up and tattered and just might keep him the way he is.

Once more, thank you guys so much.